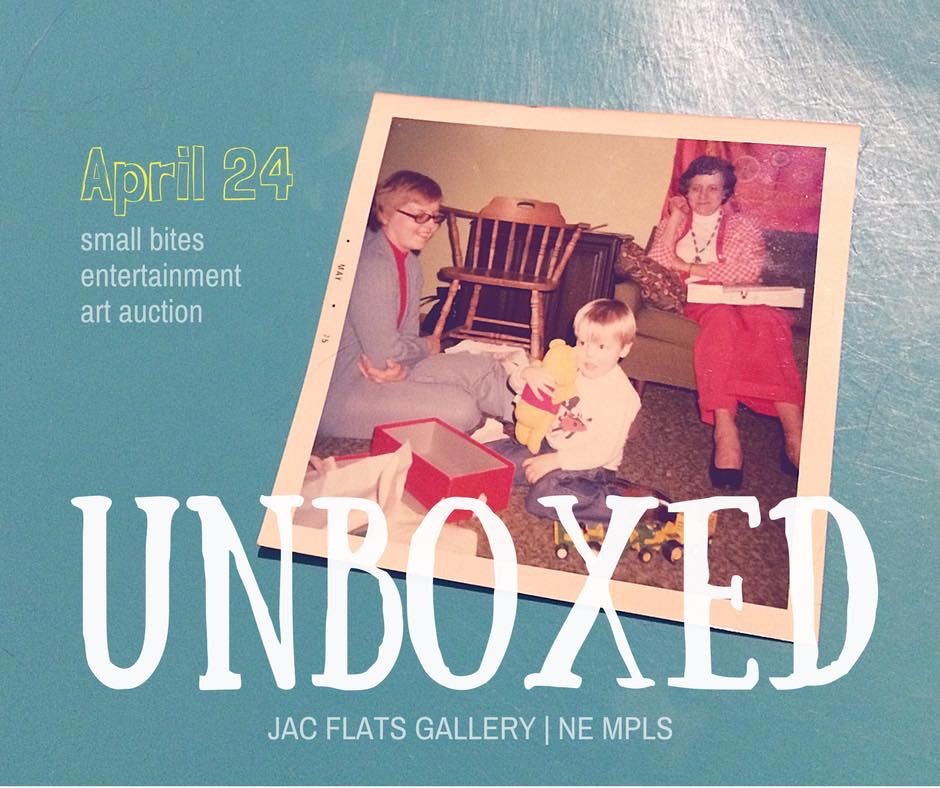 The biggest Sandbox party of the year is back!
UnBoxed features great food, live entertainment and an incredible silent art auction, showcasing original commissioned pieces created by a talented network of artists from around the Twin Cities and the nation.
Monday, April 24 6:30-9:00PM
Jac Flats Gallery (Map)
Facebook event
This year's theme centers around our Fall 2017 production IN THE TREETOPS, a brand new play inspired by the life and work of New Ulm's own Wanda Gag. Our contributing artists will be creating pieces celebrating their favorite children's characters from books, film, television, folk tales, etc. It's the sweet spot between nostalgia and childhood joy (that's Matthew above, age 3 with his Pooh).
UnBoxed is our biggest fundraising event of the year, and gives us a huge boost toward providing opportunities for artists from an array of disciplines to strengthen their skills as collaborators and build new plays, telling timeless stories.
Your $20 ticket to UnBoxed includes food, beverages and an entry into our raffle for VIP seats to the opening of IN THE TREETOPS!
---
2017 Contributing Artists
Masanari Kawahara – Kristina Fjellman – Ian Miller – Sara Brown – Michael Carina – Jake Berendes – Lindsey McDonald Dorsey – Tony Riley – Jay Owen Eisenberg –  Brendan Rohde – Sarah Baeverstad – Danielle Siver – Anna Decker – Evie Digirolamo – Derek Lee Miller and more…
Also up for bids: a special game night for you and friends hosted by Sandbox's own Peter Heeringa, an aerial silks workshop with Sandbox's Evie Digirolamo, a family photo session with Sandbox's Matthew Glover, Wanda Gag gift packs, Park Square Theatre tickets, VIP Seats to see our new play In The Treetops, and more.
---
Can't make it?
You can still show your love for Sandbox by buying an I Can't Make UnBoxed 2017 Half-Price "Ticket." You'll receive a very special thank you from our own Peter Heeringa, too!
See you on the 24th, at UnBoxed!