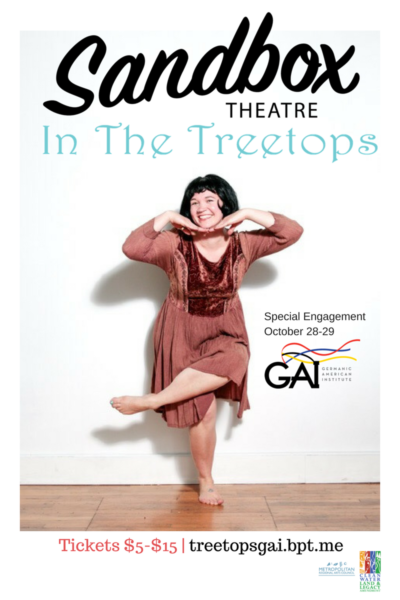 Sandbox Theatre presents In The Treetops, an all new play created by the ensemble. In The Treetops explores the incredible life and pioneering work of New Ulm-native Wanda Gag, the illustrator and children's author of Millions of Cats. In The Treetops is an allegorical celebration of Wanda's inspiring life, and is filled fairy tales, fables and songs. The entire production is built from scratch via Sandbox's unique creation process, and is our first show built for kids and adults alike.
In The Treetops
October 28-29, 2017
Germanic American Institute (map)
TICKETS
$5-$15
Suitable for children ages 6 and up
Performances October 28 at 1:00pm and 7:00pm, October 29 at 1:00pm
---
ENSEMBLE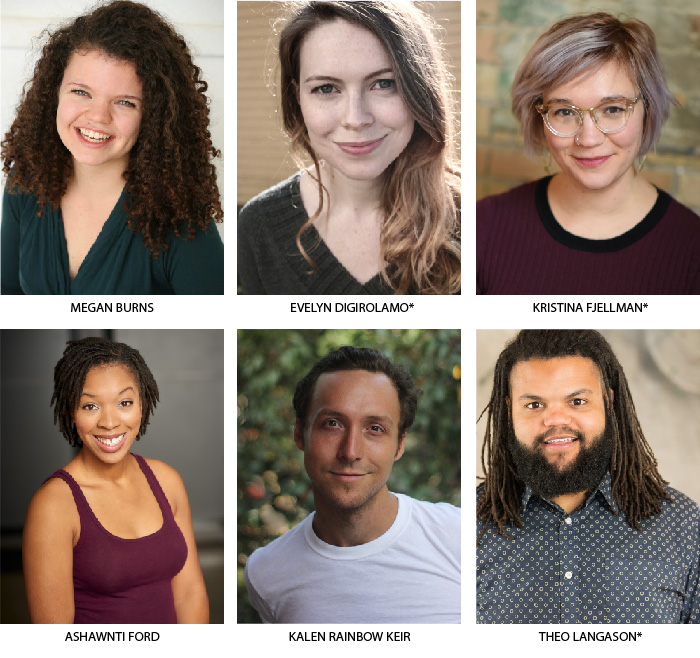 PRODUCTION TEAM
Project Lead – Megan Campbell Lagas*
Director/Scenic Designer – Matthew Glover*
Stage Manager – Jaya Robillard*
Costume Designer – Rebecca Bernstein
Lighting Designer – Mitchell Frazier
Music Director – Theo Langason*
Assistant Stage Manager – Peter Heeringa*
Ensemble Creation – Heather Stone*
*Denotes Sandbox Company Member
ABOUT THE SHOW
In The Treetops focuses on Wanda Gag's formative years as a teenager and young adult. The eldest of seven children, Wanda's father Anton (himself a painter and studio photographer) died when she was just 15. His passing forced Wanda into the role of provider for her younger siblings, and left her saddled with family obligations and societal pressures. Spurred on by Anton's dying words, "What papa could not do, Wanda will have to finish," Wanda was determined to carry on her father's pursuit of an artistic life, and fulfill her dreams of providing for her family as a working artist.
In The Treetops is led by the creative team of Megan Campbell Lagas (Project Lead), Matthew Glover (Director and Scenic Designer), and Jaya Robillard (Stage Manager). The dynamic, multi-talented performance ensemble features musicians, visual artists and creators, including Sandboxers Evelyn Digirolamo and Kristina Fjellman (in the role of Wanda), as well as Ashawnti Sakina Ford, Megan Burns and Kalen Rainbow Keir. Sandbox's Theo Langason will lead the musical creation for the show, as well as perform live as a part of the cast.
WHERE IT BEGAN
The seeds for In The Treetops began with Project Lead Megan Campbell Lagas, who, while studying elementary education, was surprised and delighted to find one of her favorite children's authors was a Minnesota native. "I started reading up on Wanda, and found this incredible, inspiring woman who led an amazing life on her own terms, and I thought to myself 'she's someone we should lift up. Her story needs to be told.'"
Lagas sees parallels between Wanda's life and that of her own. As a single mother at 23 who had to fight her way through to a college education while on government assistance, Megan shares Wanda's frustrations with what society sees as her place. "How many people — smart, talented people — are told by the system that they are nothing but a burden? That the best they can offer to society is to surrender their dreams and get a minimum wage job? I wanted to show I was more than that."
Pressures on Wanda were similar. After Anton Gag's death, the townspeople of New Ulm pressured Wanda to quit school and get a job to provide for her family. But following her father's wishes, Gag persevered, attending a number of art schools while working on the side, and eventually helped support her siblings with her artistic career.
A BIG JUICY PEAR
In the introduction for her "Tales from Grimm," Wanda Gag said the anticipation and excitement of sitting down to listen to a fairytale as told by her grandmother was like she was about to bite into a big juicy pear. "That's what I want the audience to feel when they enter the theatre," says Lagas, who will be counting on Costume Designer Rebecca Bernstein, as well as Glover (scenic) and Langason (music), to help create a viscerally appetizing, sensorial experience. "I want to stimulate their minds and get them thinking anything is possible on this stage."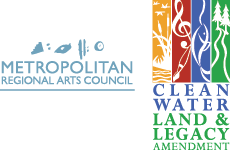 Sandbox Theatre's 2017 Season is funded in part by a grant from the Metropolitan Regional Arts Council and the Clean Water Land & Legacy Amendment.