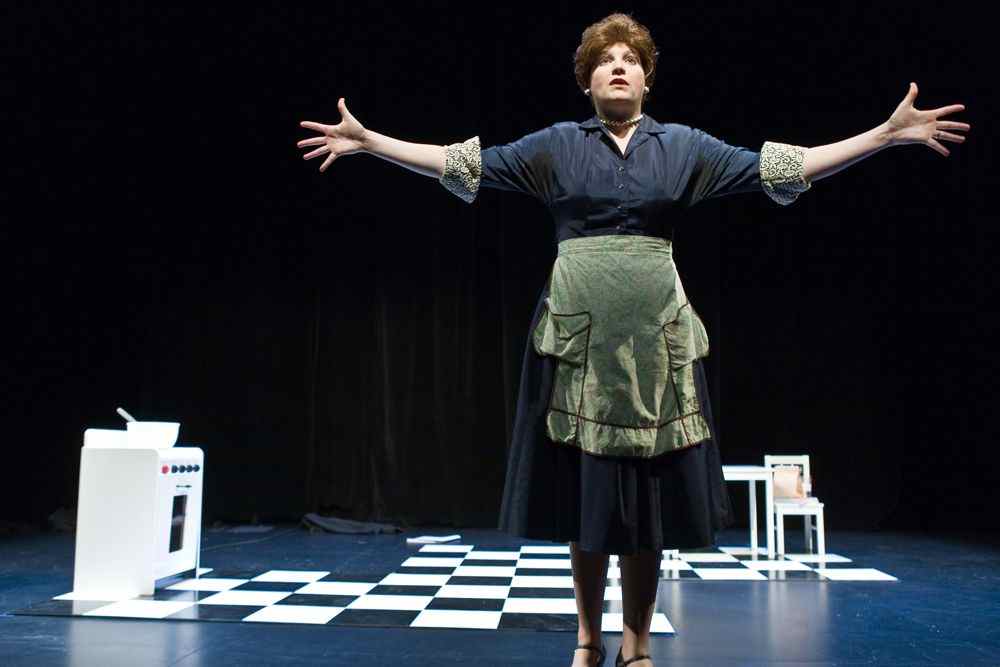 June of Arc opened August 1st, 2009 at the University of Minnesota's Rarig Center eXperimental Stage, as a part of the 2009 Minnesota Fringe Festival and again on January 14th, 2010 at the Dowling Studio as a part of the Guthrie Theater's Singled Out: A Festival of Emerging Artists series.
Written for the Minnesota Fringe Festival and remounted at the Guthrie Theater, June of Arc was a fabricated internal monologue for June Cleaver. Her story strained between the need for individual fulfillment and the pull of social expectations for a post-war housewife. Tautly choreographed, her bittersweet story was broken up with live-action interpretations of actual 1950s television commercials.
Director: Lisa Moreira
Stage Management: Kristi Ditmarson (Guthrie)
Design Elements: Company – with special thanks to Jodi Trotta, Andrew Lawrence Schiff, Melanie Hill, Lucas Moreira
Voice-Over: John Middleton
Starring:
Heather Stone as June Cleaver
Ryan Hill as Ward Cleaver
Derek Miller as Wally Cleaver
Matthew Glover as Beaver Cleaver
Photos by Richard Fleischman
History
Matthew Glover
I can't talk about June without first telling the story of how I came to be cast in the show. Somewhere in the late spring of 2009, Heather called me and asked if I wanted to be in Sandbox's Fringe show, June of Arc. It'd been a couple of years since I'd done Fringe, so I accepted. Apparently Peter Heeringa was set to play the Beaver, but something got in the way. What's more, my good friend Sam Landman had been offered the role after Peter dropped, but was already committed to another show. Yep, I was third choice. From what I hear, Heather asked Ryan about me, and he said he'd never heard of me. Said he didn't give a shit who they got, so long as they got someone. Looking back, it makes a boy feel special. Anyway, I signed on.
Heather, gave me some friendly advice, "We expect you to participate." I thought that was sweet. We were friends, but up until then we had never worked together. Heather also told me "not to let Ryan bother me." I'd never met Ryan, so naturally I had no idea what she was talking about. Thirty minutes into our first rehearsal, I found out. I had an idea that I shared with the group and Hill says, "I actually like that … I'm surprised." After the night was up, Heather phoned to check on me. "Who the hell does this guy think he is?" I asked. I suppose the same could have been said back after all was said and done. Lisa, Derek, Ryan, and Heather all had a tight-knit style, a rehearsal process that was years in its making. And then there's Maude. I am easily bored by rehearsal, and repetition makes me want to sprint into traffic. But there we all were. I survived by making Lisa laugh, by saying yes to as much as I could, and by taking the piss out of Stone whenever possible. I felt I owed it to her to keep her loose. I'm sure she'll tell you otherwise, but it was done out of genuine affection.
I'd kept hearing how this particular show was different than almost all other Sandbox shows because it was pre-scripted. I'd only worked with scripts before, so hearing that meant nothing to me. Sure, sure, sounds great. No scripts, right. Whatever, I'd never expected the relationship to go beyond the Fringe. Not for lack of enjoyment with this particular group, I just … well, I just kind of stopped having fun performing. In anything. I'd spent years working, auditioning and all that, but I found myself dreading rehearsals. I wasn't even having fun on stage. I looked at June as a one-off. Then something changed.
Two days before we opened at Rarig's Xperimental Theatre, Ryan and I were having a drink at The Loop and we were discussing the ending of the show. As written, June's motives turned murderous, and the closing moments were of death. She'd look into her oven, pull out a 9″ knife — presumably to shiv the lot of us — and the lights would go black. But something about this just felt off. Not bad, just … easy. Part of the absolute beauty of that character and the script as a whole is the oppressive sentiment of failed opportunity. Of untapped potential. Of chances missed, loves lost, and the crushing reality that was her current existence. At the end of her rope, June felt less a woman of action as she did a very real woman of resignation. That is what resonated with me. That is what felt right.
So while we are discussing this, Ryan said, "I hate that this show is just rehearsal now. I hate that we're no longer playing and creating." That was the sexiest shit I'd ever heard, with respect to theater. Two days before opening, we were talking about tearing out pages and redoing the entire ending. So we did. And it was kick ass. That was a tone-setter for me and for my involvement with the company.
June was not an easy show to run. Props, costume changes, running from exit to next entrance — and all while visible to the audience. Don't steal focus. Wait, DO! Do steal focus, but DON'T. It was liberating and fun as hell, but not easy. It was a 35 minute show, but it felt like 70 to do. And with so much of the male Cleaver dialog a series of grunts, it was surprising how focused you needed to be. Do I grunt here, or here? Heather's cadence was always spot on, but the lines were so very similar. Grunts felt right in places they weren't, and right again in places they were. The audience would never pick up a miscue, but we sure did.
I remember the feedback from audiences to be mixed. Some expected a staged episode of Leave it to Beaver, which I found amusing. Rich Fleischman's press photo — blazing orange background, June's crazy eyes, and a 9″ chef's knife — kind of screamed not Leave it to Beaver to me, but hey…
I recall one bit of feedback that still makes me feel like we hit it on the head; the person, a man, felt that the oppressed, repressed, lamentable woman from the 1950s was old news. A tired concept. This reminds me of people who say they are tired of hearing about sexism, or racism, or rape culture, or poverty — which is to say, they are tired of hearing it at all. If June was dated, why are so many people still living her life?
A woman, maybe 70 years old, walked up to us after a Guthrie performance and said quite earnestly, "How did you know?" That sounds trite as shit, but it was lovely to hear. Dated? No. Current. And dated. And foreboding.
I think June is one of the strongest roles written for a woman that I have read. It says so much with so little. And it was both inspiring and intimidating to watch Heather leave audiences feel chewed up and spit out in under 40 minutes. The perfect match of script and actor.
Ryan Hill
After two esteemed members of our ensemble read a new play of mine, one of them paid a back-handed compliment, "This is totally different from the rest of your stuff. It's good!" And that's how we decided to produce June of Arc.
In reality, June different. I had been writing stuff that was pretty blunt and theatrical (did you see the show about the giant stuffed animal?). This story was a stretch toward the subtle. It was mostly realistic – at least for a fictional character – and didn't corrupt any laws of physics to stage.
I don't remember how Leave it to Beaver became an inspiration, but June's universal ambiguity hooked me somehow. That character has become shorthand for the ideal 1950's hausfrau. But nobody, not even June Cleaver (nee Broson), is that anachronistic. She had to have some internal struggle. Something beyond the Beav, Wally and Ward. What're you hiding underneath that apron, June?
I don't plot out my work before putting pen to notebook, so there's no story to writing the story. I just wrote what June said on my mindstage. Actually, I wrote what Heather Stone dressed as June said. Heather was precast from the moment I started writing.
I've actually still never watched a complete episode of Leave it to Beaver. The depth of my research didn't go much deeper than Google and Wikipedia. Here is the complete list of things I knew about June Cleaver while writing the play: she was raised in a suburb of St. Louis; her maiden name was Broson; she won a blue swim cap at a competition once.
And go!
Everything else was invented. The text went through a lot of evolution while putting the show together. Lisa and Heather had no qualms about editing the words on the fly. I find playwrights are often damn fond of their own voices (did you see the show about the dead gay guy?). But the words are there to serve the story and need to be flexible.
We had a few older women approach us after some of the shows and express how moved they were. "This is my mother's story." "This is my aunt's story." "This was me." There were emotions. I squirmed. I'd never had that happen before. It was a bit overwhelming. I felt awfully guilty at how little thought actually went into writing the play.
I just wrote a fictitious internal struggle to a fictitious television character. With a dash of absurdity and allegory. Maybe the image of June is so pervasive that I got sucked into the gravity well of her own universality.
Or maybe I just got lucky and finally wrote something good.
Heather Stone