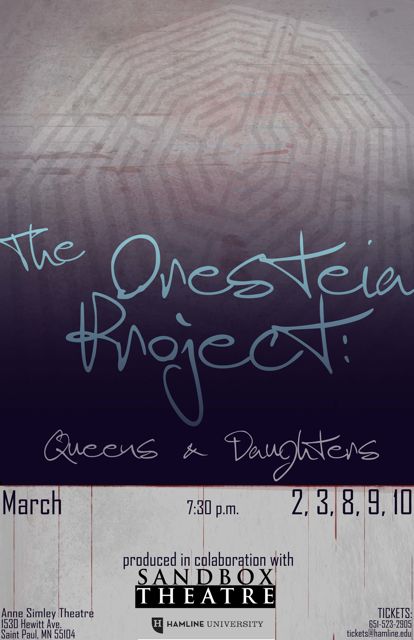 The Oresteia: Queens & Daughters
THE ORESTEIA: QUEENS & DAUGHTERS was produced in conjunction with and created by Hamline University Theater and Sandbox Theatre. It ran March 2-10, 2012 at Hamline's Anne Simley Theater.
Under the direction of Sandbox members Nicole Devereaux and Heather Stone, THE ORESTEIA PROJECT was an experimental reimagining of THE ORESTEIA by Aeschylus, centering around the themes of free will and human choice in a new, unique theatre setting. Originally a challenge to Athenians to resist barbarism and embrace civility, THE ORESTEIA was here adapted to a modern audience to address our vengeful tendencies and remind us of our evolution from animal to civilization, and that to remain civilized we must resist the pull of revenge.
This original show inspired by Aeschylus was also written by Hamline Graduate and Sandbox Theatre ensemble member Ryan Hill.
History
Heather Stone
Working with the students was great. Any "authority figures" were completely hands off, so we leaned on our sophomore stage manager to be the in between person and she was great.
The overall amount of trust the students had in us from day one was amazing. Watching them "get it" – get our process and how we create and seeing it click in their heads. I think they also really appreciated our honesty – we told them that we didn't know everything about this show and wouldn't have all the answers and we'd want them to come up with some answers – we're all in this together…everyone has the same sense of ownership on this piece.
For me, this was a great learning tool – how do I get my words across simply and to the point? And without breaking out in hives? How do I guide without showing how to do it? Brings you back to the basics, really….it's humbling working with students.  I see myself in them and can judge where I am now as to where I was then…and see them make the same choices I would have then….and hopefully see how much I've grown as a performer and a person in general. Plus, who teaches ensemble, collaborative, new work? How do kids get a taste of a sense of ensemble if they're not all in it creating characters, scenes, props, etc. that they themselves may never use in a show – they've created something for someone else to use or perform…..it's a great way to teach that it's not about YOU the actor in the show, it's about the SHOW – you are all in the same boat!
Libby Stone
Why did you audition?
I auditioned because I was really excited about movement-based theatre. As a former gymnast I have always been intrigued by the way bodies move through space, how heightened physicalities can create another rich layer of meaning for audiences to wade through.
Did you feel added pressure working with an outside theatre company?
If anything it was refreshing to have outside creative minds to play with, there's none of the apprehension of 'Oh I'll see this professor/director in class tomorrow' I felt more compelled to give 110 percent, because I wanted to make a good impression on outside, professional directors. My only critique is for my fellow actors, sometimes I felt like they weren't representing Hamline well and that they weren't as excited about your process and ideas.
What was the creation process like for you?
SUPER COOL. I just loved exploring all of the different shapes and movement styles, it definitely has widened my 'vocabulary' and I feel much more comfortable trying on different ways of moving through space. Having other Sandbox members come in was super helpful because they were so confident in these methods, they maintained a balance of creative expression without stifling the students' ideas.
Did you feel that your voice/ideas were heard?
The directors did an excellent job of listening to what everyone had to say and either incorporating it or not. Their mantra of 'Hold on tightly, let go lightly' was definitely what saved my sanity throughout the process. Sometimes it would be frustrating because changes were being made so frequently, but remembering that the creative process doesn't stop once you've made a choice, sometimes you have to be flexible!
Did you feel that you were challenged in the creation process? How or how not?
My biggest challenge in the creation process was not feeling the support of the other actors. As the only underclassmen in the group, and as my first production at Hamline, I felt very out of the circle. Since the process is so collaborative and dependent on the group's energy I felt that I had to really push past their cliquey behavior and not let it affect my confidence.
Anything you remember about performing the show – either fun or frustrating?
I really enjoyed creeping through the audience as a fury, since it was at the beginning of the show it gave me a chance to size up the audience and get my jitters out about performing. And it was absolutely wonderful having people squirm out of my way and recoil when I would pop up behind them!
What are the benefits for students to create new work/work with theatre companies outside of the theatre educational program?
It almost drop-kicks you out of your little fantasy world, that you're in college and acting in productions but it's still just school and you're not trying to pay rent from the pay check for this show and all that fun stuff. Working with Sandbox was a realization of 'Wow, here we are working with this outside company, here is how they work, can I handle this?' It was definitely a worry of mine whether or not I would come out of this alive, but somehow I managed to get out of it with a lot of lessons learned and fun memories.
Anything else you feel we should know about the show?
MORE AUDIENCE MOVEMENT. Surprisingly, one of the more frequent comments I got from our awkward audience members was that they were surprised and disappointed that they weren't moved more. My mother even made the suggestion that the audience should be forced to move across the stage as Cassandra is having her vision, which would be nuts!
I look forward to seeing future Sandbox productions, and I wish you both well in wherever your lives are leading you! Thanks again for everything, I'll never forget this awesome experience!
Nicole Devereaux
It was thrilling to share our process with young people and watch them grow, even in the very short time we had together. We had a small cast and crew, which really allowed us to dig in and challenge each other while also paying attention to the final product. There were so many firsts with this production – it was a risk for many people and I am so proud to say it paid off!
I was personally surprised by some students' rigidity and what seemed like resistance to ensemble collaboration. I was reminded that individual identities are still forming at that time in life, and often, when confronted with something new and outside of a comfort zone, it is easier to put up walls or give up rather than push through the difficulty.
Working with students just fits with Sandbox's mission to foster the development of artists. Ensemble work is perfectly suited to the collegiate environment, where artists are (usually) eager to learn and open to new methods of creation. The students derive value from being exposed to something different than traditional theater styles and Sandbox is able to hone its process as we teach it to new artists.
For me, this show really stretched and encouraged me as a first-time director. I love teaching and guiding artists towards a common goal, all the while inspiring and encouraging them to stretch themselves further than they think they can go. It was a wonderful experience in that regard for me.
Every Sandbox show is so unique. Even though I've been working with the ensemble for three years, and have had opportunities to teach and lead in addition to performing, I still approach each project as a learning experience. The perspectives and personalities of each group of people, for each production, is specific to that time and place, which requires a constant openness and adaptability. Ensemble work is not for the faint-hearted or those who like to play it safe!