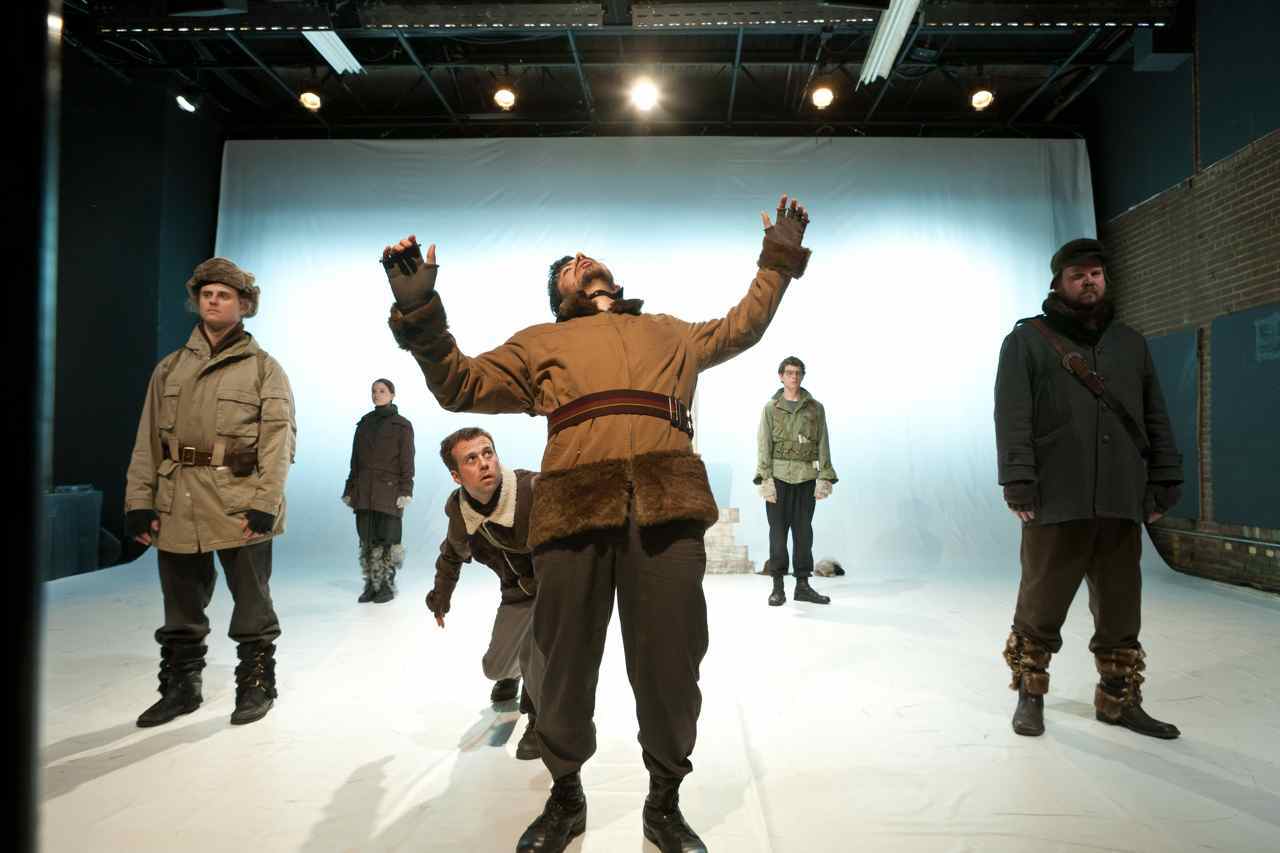 The Mad Trapper of Rat River opened November 4th, 2011 at the Nimbus Theater, Minneapolis.
The Mad Trapper of Rat River was a wild exploration of identity told through the true, superhuman feats of Albert Johnson, who eluded the Royal Canadian Mounted Police for two months in the middle of an Arctic winter in 1932.
Project Lead: Derek Lee Miller
Director: Wade Vaughn
Stage Manager: Josey Balenger
Music Composition and Live Music Performance: Tim Donahue*
Lighting Designer: Heidi Eckwall
Costume Design: Mandi Johnson
Set Design: Derek Lee Miller & Ryan Hill
Live Music Performance: Charlie Henrikson*
Live Music Performance: John Vance*
*Member of The Eclectic Ensemble, whose music composition and performance was underwritten by The American Composers Forum with funds provided by The Jerome Foundation.
Cast:
Karl Gardlund – David Darrow
Joe Verville – Hans Hauge
Wilfred "Wop" May – Ryan Hill
Sergeant R.F. Riddell – Erik Hoover
The French Girl – Brigid Kelley
Constable Edgar "Spike" Millen – Peter Ooley
The Officer – Heather Stone
History
Derek Lee Miller
This is a story that was bubbling in my brain for almost two decades. Way back in junior high, I was working in the school library (because I was that kind of nerd), and I happened upon a slim 60-page book about Albert Johnson ("The Mad Trapper"). Until I got to the end of it, I thought it was fiction, and pretty unbelievable fiction at that. It seemed like the writer invented every illogical escape Johnson made just to keep the plot moving.
Then I read the author's notes at the end. It actually happened. It was bizarre, perplexing, completely insane, and it actually happened. I can't remember who wrote that book, and I haven't seen it since, but Albert Johnson's exploits stuck with me. I was haunted by the same unanswerable question that everyone who's ever heard of him has had: Who was Albert Johnson?
Back in 2005, I was telling my brother about this story and watching his eyes grow wider at every twist. After I was done, I realized that I needed to tell this story to more people. I picked up the most definitive book on the incident (The Mad Trapper of Rat River by Dick North), which led to another book, and another, and another. I kept hoping that somewhere along the way I would start to get a feel for who Albert Johnson really was; but every book opened up more and more possibilities.
In 2006, I was invited to do a month-long residency at the Yaddo Arts Colony in Saratoga Springs, NY. I brought along seven books, a notebook full of notes and a large map of the Northwest Territories where the events took place. By the time I left, I had a sprawling 3 and a half hour play following multiple story lines with dozens and dozens of characters. And I hated it. It rendered the story even more byzantine and confusing.
So, I put it up on Sandbox's Big Ideas paper. No one really seemed to go for it, and it languished there for a few years. When we came back to our Big Ideas in 2010, I had the concept pared down. It was now a story about how people's need to tell stories and how those stories change with the individual person's own needs. Surprisingly, the rest of the company seized on the show, and we were set to go.
This was a really difficult process for me. First of all, it's hard to let something that's been your own private obsession for two decades slip into other people's hands. It's difficult to watch things you had planned out in your head fail to translate on the stage. And it's especially frustrating to be unable to communicate the ideas that make so much sense in your head to a bunch of people who haven't been marinating themselves in the same information you have for that many years. I often felt like I wasn't capable of doing this. During the creation process, I was frequently demoralized and felt like I should just quit the company, especially when I got hints from other company members that they were not happy with my leadership. I'm pretty sure I know what Ryan felt like all those years ago during Koogoomanooki.
Thankfully (even though we came to loggerheads at least once) I had Wade as a director there with me. His insight and direction saved me from a total meltdown more than once.
Then, watching it from the audience on opening night, something close to magic happened. The show I was watching was tight, spare, tense and beautiful. It wasn't 100% what I had pictured coming in to the process, but it was everything that my original draft of the story wasn't. I found myself jealous of the performers, because I wished that I could have been in it. I enjoyed watching it every time, and I missed it when it was gone.
Wade A. Vaughn
It was scary leading a production as director for the first time…but deeply rewarding in the end. But then if it hadn't been scary it wouldn't have been nearly as satisfying. The biggest thing I had to "let go of" or remind myself was that I didn't have to carry the whole show. Because I was in the Director role, I felt this enormous responsibility for everything that happened, consequently when we had those moments of "whatthehellarewedoing!!!!" I took that way too personally. I had forgotten the ensemble, and I had to remind myself that it was ok to ask for their help – I mean we're all creating the piece, who better to ask…best lesson I've ever learned.
My biggest frustration was my inability to communicate effectively. That was also a great lesson… Sometimes it was like I was trying to explain Quantum Physics in three words and it was frustrating…for everyone. With this type of ensemble built shows…there is a vocabulary you have to know and you have to know how to speak it in 12 different languages. It's also really hard for me to explain an idea as I saw it in my head. I got a few "looks" sometimes. Thankfully, I feel that we, the ensemble, came together and created a vocabulary and a common language that we all understood in ways that made sense to us. So a great lesson came out of it and for that I guess I have to appreciate the little frustrations!
Watching the show was a trip. You get all of that nervous energy that you get before you go on stage…but unlike the actors I didn't get to burn that energy up with my performance. I just had to sit there and shake. But watching the audience and experiencing the show with them is indescribable. I had assistant directed Unspeakable Things, and after opening night I made the choice of not seeing it again until the closing show. The growth, the coming together, the "play" that happened over those weeks was so exciting, so with Mad Trapper I did the same and I was equally impressed.
Peter Ooley
What was it like building the play as part of an ensemble?
It was like working out of a different toolbox. Nothing was completely foreign, but nothing was familiar. I was thankful for the challenge because no previous show had asked so much of me. Nor had any show been so open to my personal interpretation.
Any specific moments you remember during the creation process?
To be honest it all kind of blends together. But we always seemed to get into trouble when we thought about it too much. Simple was always clearer and usually the most interesting. But I think it's instinctual for many actors (this one in particular) to over think a situation. So being simple was never my first reaction, but in the case of Mad Trapper and Sandbox simple was always the best. And I think Wade, Derek, Ryan and Heather always brought us back to that idea.
What was your impression of Sandbox working with us the first time?
I loved it. It was a completely original experience and rewarding process. It was nice to be pushed into different corners.
What was it like performing Mad Trapper?
It was like walking into a boxing ring. Which was great. Actors, too often, are treated like fine china. It was good to be reminded that we can bend and fall and be thrown down the rabbit hole if that's what is needed.
It was a lot of work. And it was a blast.
Tim Donahue
I had a Jerome commission behind me for this project. That commission confused me for a bit. At first I thought I need to make something "composed" in more of a traditional sense. I was trying to impress the Jerome Foundation. I was not being myself. Eventually, while out on a bicycle ride, I came to the realization that the Jerome Foundation did not choose me because they thought I would do something traditional. They choose me to do something new, to dig deep and find a way to go further with my existing style. This realization was very exciting, it got me to reflect very deeply on who I am as a composer and how to grow that.
The biggest challenge working with other musicians for the first time was getting them comfortable. Much like myself, I feel they came in with a preconceived idea of what it would be like. I remember having to say to focus on the action not the words. I think it was a bit difficult for them to walk into a work that was still changing. Which is a bit funny because we are all improvisational musicians. I had a great time doing it. It is great to have more than just myself in the musician pit.
Tim hand cut the glass instruments used to create the sparse, chilling soundscape of The Mad Trapper.