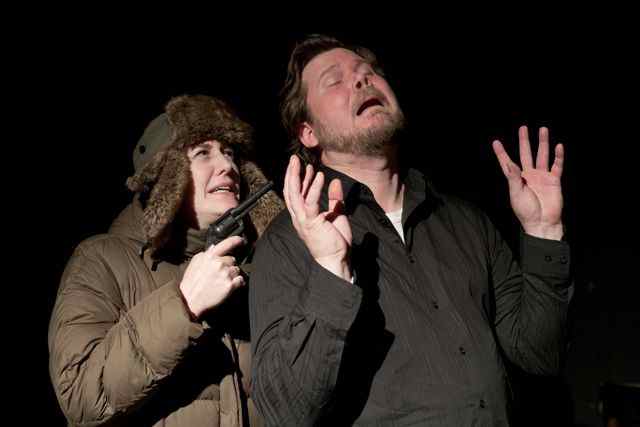 FARGO opened February 21st, 2011 at the Bryant Lake Bowl Theater, Minnespolis
A deconstruction of the 1997 Coen Brother's classic film of the same name, FARGO was an exercise in individualism; as four Sandbox ensemble members created original pieces inspired by the film's themes.
Cast
Tera Avenell – Carl(a) Showalter
Lauren Haven – Dancer
Maggie Gagliardi – Dancer
Peter Heeringa – Scotty
James Kennedy – Dancer
Ryan Parker Knox – Jerry Lundegaard
Courtney McClean – Marge Gunderson
Derek Lee Miller – Takako Konishi
Peter Ooley – Gaear Grimsrud
Heather Stone – Jean Lundegaard
Haruna Tsuchiya – Interviewer
Original music by Tim Donahue
With special thanks to Avye Alexandres and Andrew Lawrence Schiff
History
Ryan Hill
You become very, very dependent on an ensemble. One of the reasons I believe deeply in this way of creating theatre is that you can rely on each other to be experts in areas you're not interested in. You keep a system of checks and balances while operating at a high level in all areas, rather than needing to put your energy toward areas you know you're not good at.
When you take those frames away, you get things like our version of Fargo. A terrific idea – I love serial art and I love cover songs. And I love the idea of seeing what the individual pieces of Sandbox look like when teased out of the whole.
Well. Now we know. Leave me out in the field with no frames or counter balances and you're going to get a rape sex fantasy choreographed in pink sweats with hoods over their heads. And there's a guy in a giant bear head dancing in the snow with his shirt off. Sigh.  That old chestnut.
People were guffawing and gasping at the same time. I can't say it wasn't intentionally provocative, but I didn't think it was purposely offensive. I mean, the vintage beefcake photos were tastefully cropped. But people were offended. Mostly, I assume, over the dance remix of "Fuck the Pain Away."
But come on, this is a world where humans do horrible things to each other, where murder can be funny and where people have fantasies about things that would make most of us retch. Let's remind ourselves of that now and then.
It's nice to know we all have a place in a greater system. My place, evidently, is to keep tugging Sandbox toward the socially unacceptable.
Derek Lee Miller
I had a lot of fun creating my piece for this show. My natural instinct is to create on my own anyway, so this was both a return to form for me and a nice little vacation from the complexities involved in ensemble creation.
When Matthew first laid out the idea for the show (using the movie Fargo as an inspiration), my first thoughts went to the blatant lie/meta-joke that the Coen brothers tagged onto the beginning of the movie: "This is a true story". Of course, Fargo is not a true story, but I was intrigued by their audacity in claiming that it was, and how deliberately confusing fiction with truth changes how you view the story.
While pondering over this, I vaguely recalled a news story I heard years earlier: something about a Japanese tourist who supposedly died while looking for the money that was buried in the snow at the end of the movie. I couldn't recall the exact details, but I started forming an idea for a dark comedy (somewhat in the vein of the Coen brothers) about the confusing of truth and artistic fiction leading to death.
Then I started researching, and things went far afield.
After checking on Snopes.com to make sure the "Japanese Tourist" story wasn't just an urban myth, I ran headlong into one of the saddest stories I've ever heard. In fact, there was a young Japanese woman who died in the snow in western Minnesota in 2001; but everything else the papers reported about Takako Konishi was not only wrong, but embarrassingly, criminally wrong. What was painted as a wacky misunderstanding for people to chuckle over in their "News of the Weird" section was infinitely more poignant and affecting than such shoddy journalism could ever convey. And, it actually didn't have anything at all to do with Fargo.
So with this new story in hand, I decided to flip the convention of Fargo: instead of presenting fiction as truth, I would be presenting the truth as if it might be fiction. I decided to embody the character and alienate the audience from it in a number of different ways: (1) I would be dressed as Konishi was when she died; (2) I would not actually be acting as Konishi, but rather as myself telling the story; and (3) I would create animation to back the piece that was suggestive of me "painting" the pictures as I went along. The idea was the keep the audience asking themselves if the story was true, with the hope that such questioning would continue over into their regular lives whenever they are told something is "a true story".
I wrote the original fifteen-minute script in one afternoon and cut it down to a ten-minute piece to fit in our time constraints (which left a lot of heartbreaking details out of the final product). Then, I painstakingly divided up the script into it tiniest beats–some only a few words long–and read and timed them all to a tenth of a second. Using this timing I created the animation on a clunky, bug-filled computer program called Pencil. It took 3 weeks of nightly work (with frequent swearing as Pencil once again lost a file that I had saved) to get the fairly simple animations going. I had never created an animation before, and I may never again, because it ended up consuming about thee quarters of the time I spent putting the piece together.
After that, it was a week of coming home from work, putting on some pantyhose and parading around my living room. By sheer coincidence, I had bought a second-hand digital projector just a few weeks before starting this project, so I had the ability to rehearse along with my animations. It never occurred to me to have anyone else watch before the show went up, and technical difficulties at our tech night prevented me from being able to rehearse there at all. Our opening night was the very first time that anyone, Sandbox members included, got to see what I had been working on.
Though I don't think the company should abandon its collaborative nature any time soon, I hope that we go on to do more shows like this. I know that it reinvigorated me, personally. It's nice to remind ourselves that we are a collection of individuals and that we all have different strengths and instincts.  That's easy to forget when you spend so much time filtering your ideas through other people.
1987-inspired commercials produced for FARGO
3-Cent Stamp
Directed by Brian Columbus
Featuring Nancy Paul
Voiceover by Tim Hanrahan
Dog: Mollie
Visit Brainerd
Created by Garrett Tiedmann
Grain Belt Beer
Created by James Buffington
Featuring Katie Sparks, Farrah Buffington, Victoria Yarwood
Voiceover by Anthony Brousseau