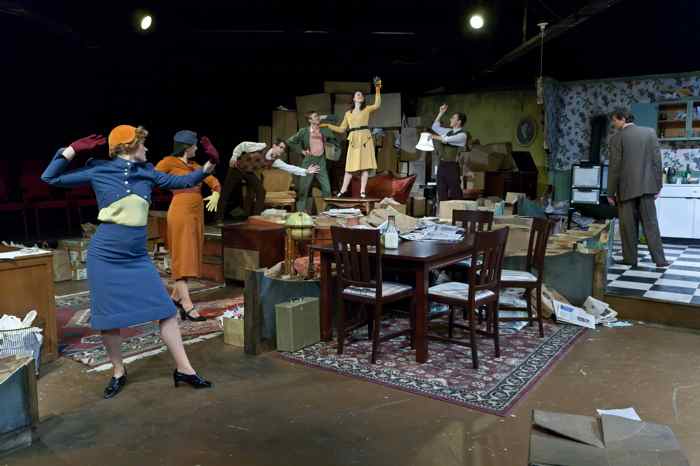 Unspeakable Things opened November 5th, 2010 at the Red Eye Theatre, Minneapolis
Unspeakable Things told the haunting story of St. Paul natives and Sci-fi/Fantasy pioneers Donald and Howard Wandrei; brothers who saw their careers and lives consumed by their real life fears.
Project Lead: Ryan Hill
Assistant Director: Wade Vaughn
Stage Manager: Lydia Bolder
Asst. Stage Manager:  Amber Bjork
Sound Design: Tim Donahue
Set Design: Derek Lee Miller
Master Carpenter: Zach Morgan
Construction Asst.: Michael Devereaux
Costume Design: Mandi Johnson
Lighting Design: Ron Albert
Prop Design: Andrew Lawrence Schiff
Marketing/Design: Matthew Glover
Cast:
Donald Wandrei – John Middleton
Howard Wandrei – Joey Ford
Jeannette Wandrei – Heather Stone
Connie Wandrei – Nicole Devereaux
Suzanne Wandrei – Jenna Wyse
H.P. Lovecraft – Derek Lee Miller
Private Herbert – Mark Benzel
The stage production of "Unspeakable Things" was created in part through a collaboration with these Twin Cities musical artists: Allen Brewer, Grant Cutler, The Eclectic Ensemble, Joe Johnson, Jeremy Messersmith, Nathan Perbix, The Poor Nobodys, The Robinson Caruso Organization, Ten Centuries, and Ben Weaver.
Photos by Richard Fleischman
Artistic Collaboration — All songs written by the artists for Sandbox Theatre's Unspeakable Things
Ben Weaver – "Coldest Winter 1944″ by Sandbox Theatre 
Grant Cutler & Jeremy Messersmith – "Crystal Bullet" by Sandbox Theatre
The Eclectic Ensemble – "Subconscience" by Sandbox Theatre
The Poor Nobodys – "Ether Eaters" by Sandbox Theatre
Robinson Caruso Organization – "Baby Won't You" by Sandbox Theatre
Ten Centuries – "Crystal Bullet" by Sandbox Theatre 
History
John Middleton
What was the biggest challenge creating the piece with an ensemble?
The biggest challenge for me was walking into rehearsals for a play I knew was going to be performed in front of an audience in a few weeks with no script. NO SCRIPT. Nothing. That's madness.
Any specific moments you remember during the creation process?
While developing the script, ensemble members often acted out all the characters. Nicole, Wade and Joey were all consistently better at playing me than I was. This was disheartening to consider, but fun to watch.
What was your first impression of Sandbox?
From the very beginning you have to take your shoes off to play with Sandbox. It seems like we should get to know each other a little first. Maybe share a meal, or buy me a drink.
What was it like performing the piece?
A lot of the play was pretty lonely for poor Don, so what I remember were the moments each night when another actor would take a moment to check in with me on stage. Nicole, Heather, Derek – everybody was looking out for me. And my beautiful niece Jenna with tears in her eyes – I'll love her forever because of those moments.
Shirna loved you, why were you so afraid of her?
Oh, it's wonderful to love an ideal, but when she showed up and started to pursue me – what if I smell funny? Or make weird sounds? What if she notices the splotches and ripples and odd hairy patches? Her inevitable disappointment, her disgust! Awful!
Anything else people should know about this show?
Acting with a giant cardboard monster is NOT EASY.
Jenna Wyse
I felt a certain responsibility as a new company member to take care of the artists we were working with, knowing that only the year before I was in their shoes. There's a language that the ensemble members speak freely in, and I took it upon myself to 'translate' to our newcomers and make sure everyone felt included in the work.
Because we work so quickly, it is imperative for everyone to feel comfortable enough to contribute to the pieces we create. This usually takes a couple of rehearsals before the artists are willing to take risks and make mistakes. The first time we pieced together Act I, I noticed the ensemble breathe a sigh of relief as they saw all of their hard work come to fruition.
With .faust, we were working with a well-known tale and creating scenes to tell the story visually with poetic language. Unspeakable Things was a lot more difficult because we were taking this little piece of our local history (real people!) and trying to do them justice. Since the story was based on two writers, we had a lot of text to choose from. However, I found that we struggled with clarity more so with this piece, trying to portray the Wandrei Brothers the way we wanted.
The environment that we placed the show in really shaped the outcome of the performance. While the set itself was very cluttered and reckless, our movements had to be precise and more contained than they were in the rehearsal room. I remember the first time Nicole and I got under Heather's Monster Jeanette costume to puppeteer those huge tentacles. I thought, "How are we going to move at all?!" It ended up being one of my favorite parts of the show because we did get to take over so much of the space. Monster Jeanette became this larger-than-life, larger-than-the-set character!
I hope people got a feel for what it was like to be inside the heads of the Wandrei brothers. From the outside, they lived private lives with equal parts regret and paranoia. They could have slipped into the folds of history and the shadows of more well-known Fantasy writers. But by bringing their story to the stage, we challenged ourselves to tell the narrative from the inside of that house in St. Paul, and the inside of Howard Wandrei's fanatic genius. And on the insides, this beautiful chaos unfolded into a story not unlike many that are told today. Except, of course, with a few more tentacles.
Amber Bjork
I've always enjoyed the aesthetic of Sandbox's productions and have noticed a great deal of refinement of that aesthetic over the years. I really just wanted to observe the inner workings of that machine. It was pretty much what I expected: a lot of chaos, a lot of repetition, and a massive amount of ideas flying around. But also, there was an understanding as a group of their magnetic north. Unspeakable Things itself had a lot of repeating elements and the feeling of a mind shifting through old memories and present fears. Sitting to one side and observing Sandbox take a hall-of-mirrors storyline and keep each return to an idea new and different and surprising was maddening…and pretty damn inspiring. I came in halfway through the rehearsal process, and I remember the uncomfortable–but ultimately satisfying–experience of making my way from complete confusion to a-ha to understanding.
Colossus was my favorite and most fear-filled moment of every performance. As ASM, I never had downtime backstage; I was handing off pickles or creating loud noises, dressing soldiers and monsters, opening curtains for puppeteers and trying to blindly operate a snow cradle with some level of proficiency. But once a night I got to dive into the carefully choreographed tangle that was the Colossus Operation Team. Poles and people and curtain and chaos were going on. I vaguely remember catching Nicole by the tenders as she exited the puppet backwards and then getting that big box head up and clear of the overhang, all within a few high-speed seconds. Every night had the potential for more than a few disasters. But once he was up and about, he was pretty damn spectacular for a giant made out of boxes and powered by the adrenaline of most of the cast behind it. Even though that big guy came together at the last possible moment of the process and I had nightmares of skewering Heather with a pole, I have been told by those who saw it that it was an unbelievable moment in the show. And if that isn't worth getting skewered, what is?
Tim Donahue
The main difference between this show and the others I've done was experience in the Sandbox. I was accustomed to the way the ensemble worked and how a SB show comes together. I was confident in myself and how I fit into the group. I knew that I was there because of my skill and commitment. This confidence enabled me to move forward with the music and not second guess it because, as I was told "you are the expert, that is why we hired you…"
For this show I was able to roll with the changes as they presented themselves and I was able to have/ maintain a clear vision of the end product. I was more involved in the creation process, more so than before. This helped me be a reference to the new people in the group.
I also explored more with speaker placement for this show. I hid speakers under the sage and around the space.
While performing, I remember being very tied in with the action and really focusing on timing and volume. The music was samples and pretty set, but the subtlety of how fast and loud I mixed those parts was very important. I also remember "ensemble builders".