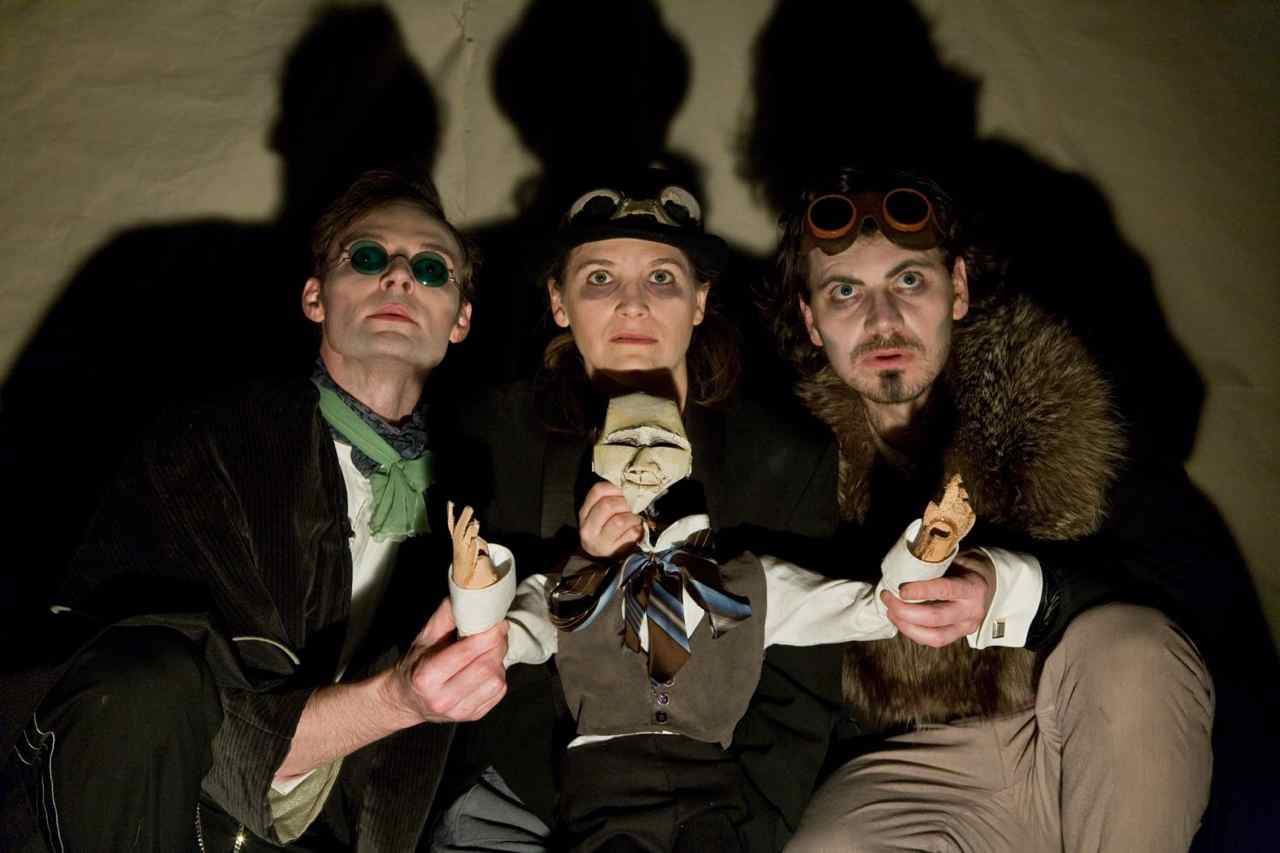 .faust opened November 6th, 2009 at the Red Eye Theatre, Minneapolis
A company-created interpretation of the classic German tale of temptation, we split Faust into three personalities and built a triptych of power, greed and self-destruction.
Project Lead: Ryan Hill
Direction: Lisa Moreira
Assistant Direction: by Natalie Novacek
Stage Management: Katie Oliver
ASM: Peter Heeringa
Music and Live Score: Tim Donahue
Lighting: Ron Albert
Costumes: Kathy Kohl, and Mandi Johnson
Sets: Ryan Hill
Properties: Andrew Lawrence-Schiff, Derek Lee Miller (Mephistopheles, and Puppet Faust), Jenna Wyse (masks)
Performance Ensemble:
Nicole Devereaux, Tim Donahue, Ryan Hill, Christopher Kehoe, Derek Lee Miller, Heather Stone, Wade Vaughn, Jenna Wyse
Photography: Richard Fleischman
Artistic Collaboration
Jessica Boire
History
Kathy Kohl
What was it like working within the collaborative company? What was different from the more common process?
The long preparation time meant we could be expansive in our research, exchange ideas, develop our designs, try some ideas out without the pressure of immediate deadlines that comes with a normal 6-week production time; it was truly a play-time, which was a treat.
We presented an image pool of drawings and research to show the team where we were heading, with the acknowledgment that there would certainly be changes in the look and the staging as we went along.
The script itself was of necessity loose, so we didn't rely on it for costume hints; in that way it was similar to working on a Shakespeare play. Because of the malleability of the script, we needed to be more than normally alert to changes. It would have been better if we could have been more present through the rehearsal process, but because of other obligations, that was not always possible.
A company-generated piece means that decisions take longer to make, and are not binding. We built some experimental pieces that weren't ultimately used, but the company was very open to at least trying them out.
Our inspiration was the SteamPunk style, not taken too seriously. This meant the show was not so much a build, but a gathering of pieces that could be modified and added on to. I discovered many metal accents in dark corners of my garage.
How did you come to use Dress Up Day? How did that work out?
There were a number of reasons we chose to run the fittings this way: Mandi works in this fashion for her high school plays that involve masses of students, and it was her idea to apply the technique to this show.
Neither of us had much time to devote to a series of fittings over several days (the method I usually use) because of obligations to other plays; rehearsals needed all actors on deck to collaborate; we had gathered costumes over a period of months, so we had everything on hand; and we thought this would bring costumes into the collective process.
We gathered mounds of costumes and organized them into piles, such as skirts, pants, shirts, jackets, dresses, various accessories, and laid them out (this involved an exhausting amount of  schlepping, but we were aided by the company, hurray!).
The actors chose from the piles and tried things on, after which we met with each actor to make an inventory of their costume(s), take fitting & repair notes, and get their ideas on what they still needed to complete their look: controlled (sort of) chaos.
There were certain pieces that we had firmly assigned beforehand, from which the actor could further elaborate during the fittings. It was fascinating to watch what pieces actors chose: sometimes quite unexpected. The experience was exhilarating because of the immediate exchange of ideas, the power of collective creation.
What it's like to see your costumes working onstage?
This is the part of the Sandbox process that was most like other theaters. Many costumes worked just as we had pictured in our minds (Derek, Wade); others found definition as we moved through rehearsal period (Ryan, Heather). The actors worked hard and enthusiastically to inhabit their costumes fully and the notes we took during dress rehearsals were mostly about repairs, as I recall. My favorite parts of design are collaborating with actors to bring them what they need to realize their character, plus watching how the costume enhances their performance.
During rehearsals, my attention is always on what still needs to be done. I visit the play after it's been in production for a while to get a full sense of how all the design elements work together, very exciting!
I found Sandbox's .faust process to be a true collaboration, a rich experience that allowed me time to dream. Such a luxury.
Derek Miller
This was my second outing as a full-fledged company member of Sandbox, and it would turn out to be the first one where I slept overnight in the theater during tech week.
After the enormous number of hours that we put into creating the set for The Horse, The Bird, The Monkey and The Dancer out of projections and lights, we decided to keep the set relatively simplistic and abstract: a curtain, a wall and a raked platform. Pretty simple, right? Then, we shot ourselves in the collective foot by deciding that the curtain had to drop off of its batten in a coordinated movement involving three actors and that the wall should fall down and transform into the raked platform. Technical insanity ensued.
Ryan's initial idea for the falling wall prompted an immediate "YES!" from me. Initially, we thought we could just build a regular platform, stand it on its side and let it fall. However, after drawing up a materials list for this construction, I realized that it was going to be incredibly heavy and incredibly dangerous for any actor standing anywhere nearby. I redesigned it as a light, standing flat that would fall down onto a fixed rake, but the complexities and number of custom parts I had to build quickly spiraled out of control. During tech week, I worked so many late nights that instead of going home, I fell into the habit of sleeping on a bed I found in the theater's storage. This may have been a violation of our lease with the theater, but at least I finally got to see one of the many bats that roost in the theater in action. The rake, by the way, functioned beautifully, and it created a tremendous blast of air when it fell, which only made its fall even more spectacular.
Now, all we had to do was learn to function on what turned out to be a dangerously steep rake.
Early in the process, I decided two things: (1) Since I was playing Mephistopheles, his devil form should be something truly monstrous and alien; and (2) that, despite Ryan's objections, I was going to make a puppet of Faust. As far as my social life goes, both of these were terrible decisions. The living room of my apartment turned into a junkyard for two months as I assaulted two of the most technical bits of puppet-building that I had ever undertaken.
For the monster form of Mephistopheles, I decided early on to distort the proportions of a human being and make him more insectile by putting myself on a series of stilts attached to both my arms and legs. This was a simple idea when I was sketching it down on a pad of paper, but it grew into a monstrous project as I built and tested prototypes. In the end, I sacrificed four aluminum baking sheets, two pairs of crutches, the rubber tie-down straps that had been in my van, and at least one light fixture in my apartment (destroyed during my first successful walk in the get-up when I failed to account for my extra height) before I had Mephistopheles on his feet. But the first day that I brought this crude contraption into rehearsal to demonstrate my proof-of-concept, I could tell from the aghast looks on the cast's assembled faces that I was on to something.
However, the actual design of the monster continued to elude me. I sketched numerous things that I immediately threw in the trash. I vaguely remember a drunken night at Sandbox HQ where I hashed out some ideas with Andrew involving vests and belts (and maybe a corset; I'm not sure; there was a lot of Maker's Mark involved in that night). But, then we received the first of a series of .faust comics that Ryan had commissioned from local artists. Joel Vollmer (who is fantastically talented and whom you should look up right now) drew a version of Mephistopheles who was summoned out of gnarled roots and sticks and bark and who was absolutely alien and terrifying in all the right ways, and immediately I knew that it was the perfect design. Five boxes of hot glue and ten bags of scavenged sticks later, I had a completed Mephistopheles; and to this day, I still think it's one of the most impressive works I've ever put together.
At the same time I was working on this madness, I was building a pale, 1/2-scale man out of leather. During an initial brainstorming session of the show, I had suggested introducing the character of Faust as a puppet before he was magically rejuvenated. Ryan, who served as the Project Lead (as well as playing one of our versions of the title character), wasn't convinced that it was necessary, especially since we had used so many puppets in our previous show. Of course, I didn't listen to him, and I went on to build the puppet anyway. I snuck it in a duffel bag to the rehearsal where we were building that scene and didn't pull it out until we started working on it. (Here's a lesson: collaborative theater involves trickery and deceit.) Granted, the bulk of the scene ended up being created out of Ryan's ideas, but the puppet stuck; and Fausty (as he's known now) has a permanent home in the annals of Sandbox history.
However, I do have to apologize to the actors who had to operate little Fausty. They all had to be hunched over, walking on their knees to operate him. The first trio who controlled him spent an agonizing ten minutes walking him out in the opening scene. The last trio who controlled him had to walk backwards up the rake. Sorry, guys. I know it was painful, but, boy was it cool.
I didn't get off without my own pain, though. My initial entrance as Mephistopheles involved walking up a set of narrow steps and down the too-steep rake on my stilts, which is a hell of a workout on the calf muscles. Magically, I only fell once. I have to admit, I secretly relish the look of horror on Wade, Ryan and Heather's faces when that happened in front of an audience; I relish even more the fact that I was able to get back up as of nothing went wrong.
Aside from my technical babbling, .faust was a big turning point in Sandbox history. It was the first show where the assembled performing ensemble clicked together was firing on all cylinders from the get-go. It was the first time that the assemblage of ensemble-based methods that we had cobbled together from various sources seemed to be working on a consistent basis. We also finally figured out the balance between the Project Lead and Director roles. After this show ended, we decided to expand the number of permanent ensemble members in Sandbox, and most of them (Tim, Nicole, Peter, Wade, Jenna) came directly from the cast and crew.
Wade A. Vaughn
The process between Zelda and this show hadn't changed that much, from my point of view. The biggest difference is that with .faust we, the three Fausts – Ryan, Heather, and myself – met with Lisa the director to talk about the three different versions of Faust we would entertain before rehearsals began. That was helpful for me. I had that to hold on to before getting in the rehearsal room. I don't know that I can speak to how the company had changed or grown, (with the exception of Derek Lee Miller joining the company) but I do know that I felt a part of the initial idea gathering with .faust, I had a personal stake in the show right off the bat, and with Zelda, I never fully reached that feeling of ownership/connection. But I may have just been more "ready" for .faust having Victoria and Zelda under my belt.
I think the biggest risk I took was that I took risks. With Zelda, I really struggled with staying in the present moment…building the show piece by piece. I felt lost a lot of the time, and I realize now, looking back, that it was because I was trying to force a conclusion, when there can't be one in this type of creation work. Consequently, you can't take risks with your performance when you're entirely in your head like that. With .faust I really made a point of just "being" in the room and remaining present and willing to play. It resulted in a much richer, more open, riskier show. It was also my first time with a puppet…that was cool.
Performing .faust was like running uphill for an hour, and just as you thought you were at the top, you had to go 100 more feet at full speed. It was a beast of a play. The emotional tension aside, the physicality was a challenge on this one. I remember, and I think all of us will remember, the "faust-nado". This was a "dance" that ended our show where there was a flurry of movement that went at full speed for what seemed like 15 minutes and it culminated in us (the Fausts) running up a ramp and falling back behind it. The next scene was very still and quiet and I remember the three of us dripping wet with sweat and trying so hard not to breath too loud as we tried to catch our breaths.
Heather Stone
Really cool show, strong ensemble, wonderful set and sound and lights. This show could be done again, too. I struggled and doubted myself a lot. I'd like a do-over in the creation time with the H.faust stuff.
"Flippin' speak up, Heather," and get it off my chest that I don't know what I'm doing and I feel like everyone else gets the other .faust's stuff and mine is the one that everyone hates creating – we're stuck! HELP ME! I don't know what else to do and Wade's all super duper awesome and he just GETS his role and Lisa seems to be uninterested in what I'm doing or having me in the show or ignoring me. Instead I just banged my head against the wall, put on a happy all is good face, I'm doing super duper and on the right track.
Lisa Moreira
Jenna's audition for .faust blew me away. We actually used her audition piece in the performance.  A first for Sandbox. Directing .faust was a joy. I so looked forward to getting into the rehearsal room. The collaborators were willing, trusting and delightful to watch.  I think I found my confidence as a director during this show. I pushed myself for more movement, more physical story-telling. I asked myself for great specificity in creating the stage pictures and in the play world in general. I took more risks. For instance, in the very beginning of the show, the long, slow entrance of Fausty the puppet had been intended as pre-show. I felt so engaged by the commitment of the performers that I wanted the audience to really see this. So for the first ten (?) minutes of the show, the audience watched a puppet manipulated by three performers slowly trek from stage left to center, to a sparse sound-scape by Tim. It was beautiful. I had been working on shows in the Red Eye space for nearly nine years, and watching the final dress rehearsal of .faust was the first time that I felt truly transported to somewhere else.
Ryan Hill
This is the show that started to make me feel my age. Hello small puppet crossing the stage slowly, welcome to my aging knees.
This piece was my idea to experiment with how we could bring a little bit of name recognition to our work. We do original stories, so we don't have the ability to bank on a known title or playwright to draw audiences. I wondered how we could capitalize on a known story and still create something new.
The three Fausts were set to explore three facets of motivation for power and control; knowledge, altruism, and lust. We followed their three temptations, success and ultimate over-indulgence in their abilities. The core theme being: when you're obsessed, you will never have enough.
Had a blast performing this show.  Lost 15 pounds on the Sandbox diet.  For the final few minutes of every performance, Heather, Wade and I would lay on the ground behind the raised platform we had just jumped off of in the climactic moment, panting and sweating.  Trying not to wheeze too loudly as the final scene quietly played out.  I was completely mentally, physically and emotionally exhausted during this show.  It's delightful to be able to invest so heavily in something.
Peter Heeringa
Every night I hung the steampunk sail. As I approached the end the cast would begin zing-pow-boing with regular consistency. Zing-pow-boing is much preferable to extended callous-building pin clipping. It did feel pretty great to have that curtain finished every night though as the tear-down approached I always had a pit in my stomach as I worried the curtain would get stuck.
Sandbox throws some amazing closing night parties thanks in part to extreme Karaoke skills, copious amounts of alcohol, and a damn fine sense of accomplishment and pride in your work.
Nicole Devereaux
Even though I had worked with Sandbox before, I think I was a little more intimidated coming in the second time around. Part of that was due to the nature of the show – War With The Newts was very ensemble-focused, but .faust was centered more on the three Faust performers, all of whom are amazing actors. In rehearsals, I ended up working with Wade a lot – the person that I knew the least and who is simply incredible – so I found myself second-guessing a lot of what I contributed, at least at the beginning. By the end of the process, though, I felt like I stepped forward a lot more and saw that what I offered was received well by our group.
The third act whirlwind will always stick out in my mind! I felt like the pace of this show was so beautiful and measured, and by the time we reached the pitch of the faust swirl at the end, it was pure adrenaline that kept us going.  Plus, I had a kick-ass costume for this production. 
This show taught me even more about the process of ensemble collaboration. A friend of Sandbox had commented after one of the performances that he wished I had been on stage more – and that was the first time it occurred to me that I really was not present for most of the story. I realized then that because I had been so integral to the process, because I saw my creative stamp on so many scenes, that ensemble work wasn't so much about performing as it was about discovering, collaboratively, the best way to tell the story.