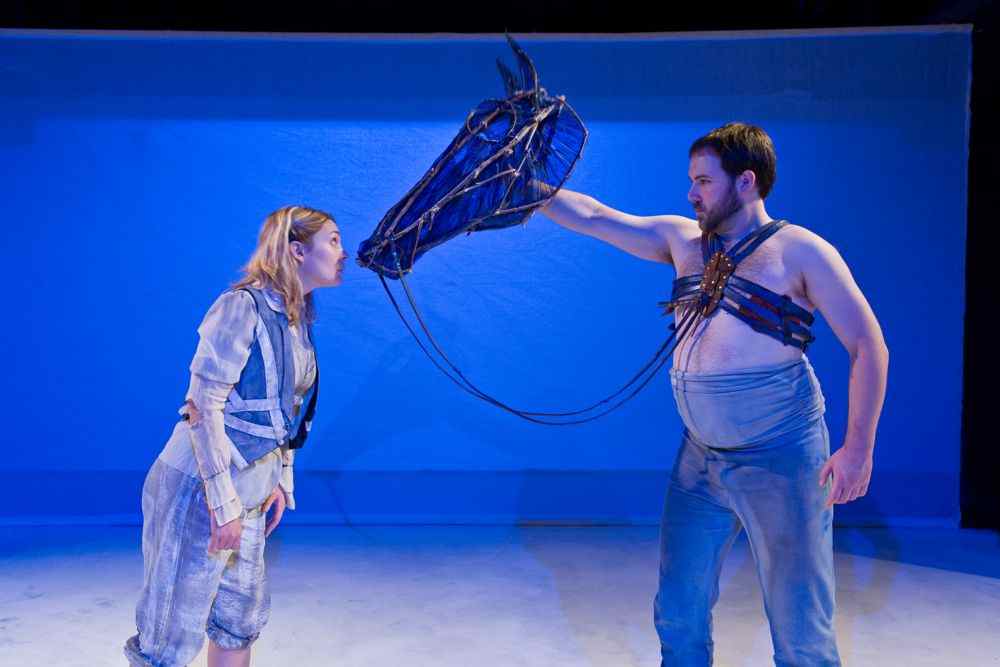 The Horse, The Bird, The Monkey & The Dancer
Opened November 7th, 2008 at the Red Eye Theater in Minneapolis, Minnesota.
A classic hero's journey tale, HBMD followed a lonely plague survivor on her search for her lost family. Along the way she befriends a group of fantastical friends while traveling a world of saturated color and hand-drawn landscapes.
Project Lead: Ryan Hill
Co-Director: Lisa Moreira
Stage Manager: Lisa Smith
Costume Director: Andrew Lawrence Schiff
ASM: Lydia Bolder
Musician: Tim Donahue
Sets: Ryan Hill
Artwork: Michael Carina
Costumes: Laura Fulk, Anna Lee, Kerry Riley, Andrew Lawrence Schiff
Lighting: Heidi Eckwall
Music: Tim Donahue
Puppets/Masks: Derek Miller
Directing Intern: David Hanzal
Ensemble:
Mark Benzel, Helen Buron, Kristina Fjellman, Peter Heeringa, Katie Kaufmann, Stacy Lee King, Katie Melby, Derek Miller, Sara Richardson, Valerie Rigsbee, Eric Sharp, Heather Stone
All photos by Richard Fleischman.
History
Peter Heeringa
The Horse is definitely among my all-time favorite explorations and culminations of character.  The act of generating the movement and characteristics of an animal such as a horse leads to a type of choreographic mind.  The gestural world of the horse became about the extension of my limbs in space and curved paths.  Even angular gestures were done with imperceptible curve so as to create fluidity of motion and a sense of power.
Remaining grounded and having a sense of weight while remaining upon my toes for great lengths of time proved to make an odd sort of sense.  The weight of my body flowed down into the earth and through that grounding came the ability for suspension of my feet into legs into hips into torso into limbs into the extended mask of the horse head.
It is easy to be inspired into movement with such a beautiful mask.  The early explorations of the horse were a clumsy mix of stomping and jokes about being the ass-end of the horse.  Being allergic to pretty much everything on the planet that moves I had spent little time with horses and needed a crash course in horse anatomy, horse locomotion, and horse psychology.  Equipped with lesions from Derek and a horse trainer I spent many, many, hours of rehearsal practicing walking and turning my (the horse mask's) head.  Horses have eyes on the sides of their heads and thus have a pretty fantastic field of vision; though I found they do, like birds, favor one eye over others.  This was a great tool for creating a dynamic change of perceived intention and perception.
My limbs proved to be extremely expressive in what at first glance appeared to be a rather tight container of movement.  The degree of extension of the arm holding the mask could elicit desire, curiosity, and spell bound.  The opposite arm could infer a sense of spatial presence the horse felt.  The legs could stamp, stretch, and locomote to a wide variety of degrees.
The way I held the mask/puppet proved to be an interesting exploration.  Holding tightly gave greater control but a strong vibe of animatronics; holding too loosely gave great fluidity but a ragdoll feel.  In the end a balance was found where a tight grip could be used to display tension of reeling back; where as a loose grasp could allow the head to tousle back and forth (with loosely blown lips) to evoke the classical horse's head shake.
Early in the process we free wrote about our characters and the phrase "I am good at carrying things" emerged.  This ended up being a go to spot in the vocal and mental state of the horse.  When in doubt snap out of the stupor and remind yourself and Prospera that you're good at carrying things.
Again, the Horse was fantastic to create and play.  I remember someone, Ryan or Derek or Lisa coming up to me early in the process of rehearsals (I recall the large sheet of paper on the wall of the rehearsal space in the background) and suggesting that we're going to have me do the show on my tiptoes and thinking it was a joke.  I was wrong.
How can something have both depth and a bold cartoon blue at the same time all while standing on my tip toes for an hour?  It was a physical challenge to be certain.  The thing most people don't realize is that the toes were easy.  The hard part was the arms.  Try holding your arm up above your head for a minute.  Add a five-pound weight and five minutes.  Now see how it feels after ten minutes (and if you want bonus points stand on the balls of your feel that whole time).  I had some great arms by the end of that piece.
Oftentimes the Horse required me to be alone in the group – I would work on my walking and looking and turning while everyone else worked on something else.  This separation in the rehearsal process was hard at times but the fruits of the labor shone through.  I think the other thing that contributed to this was that I was, if I recall correctly, the only performer not to take part in the whispy-puffs.
There was a period in the beginning of the show where I was preparing to enter as the horse.  I always experienced a rush of excitement and then raised the horse head into the light from the side/rear projector.  The movement that followed, creating the ominous shadowed approach of the horse head, required a totally different movement than the gestural score I had created for my time onstage.  This led to the need for an instant mental turnaround from hitting a technically accurate approach to entering as a puppeted character.
Dancing like a whirling dervish as a horse.  I think I hit the horse head on the ceiling a few times in rehearsal and always had some difficulty negotiating me as a performer getting whipped up in energy while still hitting the appropriate physicality of the Horse, not looking like something out of a Charlie Brown Christmas Special, and not cracking someone else on the head with the Puppet.
There came a point where Tim and I started working together to find the horse movement soundscape.  This was a shift in perspective as up to this point I had been working isolated as a performer.  To open up the Horse puppet as an entity given life by the two of us required some negotiation and feeling things out.  This auditory layer to the Horse ended up enhancing both the character and the sense of journey throughout the piece.
Performing, I remember multiple projectors backstage; Negotiating my way into the harness portion of the Horse costume and the jokes backstage about having me drum up more audience by doing a little leathery preview for the boys down at The Eagle; I remember the bold colors.  The textured lighting and projections of the forest where the bird dwelled.  This moment in the show always sharpened my focus.  It was on the tail end of a very long bout on stage with physical exertion.  The scene seemed to slow down for me and I could pick apart Katie and my own movements more clearly as an experienced exhaustion; one of the early nights fearing that my arm would drop unexpectedly and ruin all the work I had put in over the last 10 minutes on stage.
Kristina's HUGE arms flailing about the space with the red and stripes; always a bizarre and captivating image.
Orange into purple always struck me.  Here we had this vibrant, visceral, energetic dance that revved up the space to lead to the sunken hollow stark world of the Accountant.
Working with a large group as an ensemble presents a whole new world of challenges for a company.  Logistics, rehearsal management, and the interpersonal relationship building all take more time.  It both waters down and enhances the individual's ability to impact movement of a piece.
Kerry Riley
Having a background in flamenco dance immediately drew me to the role of the Dancer in HBMD.  I wanted to design a dress that was disheveled and dramatic, and built completely out of muslin.  Once the dress (which took up most of my living room) was finished being sewn, I took it to over to Ryan and Andrew's garage.  Armed with a plastic-covered dress form, spray bottles of watered-down red house paint, and a space heater (sub-zero temperatures!), I spray-painted every inch of that dress!  It was one of those experiences that I constantly look back to as a source of inspiration in my daily work.  It is, and always will be, and honor and a creative joy to play in the Sandbox.
Lisa Moreira
I started out working on HBMD as Co-Director, assuming the responsibilities and commitment as I had for every other Sandbox show I'd been involved in.  I dove right in.  There was a difference this time, though.  I had a child now.  I was a mom, with a full-time day job, in rehearsals four nights a week and on weekends.  I was hardly ever at home, and the strain of my absence on my family was too much.  Something had to give.  That something had to be HBMD.  I just had no other choice.  I hated that I had to pull away from the project, and I hated that I was abandoning my colleagues so abruptly.  It was a very frustrating time for everyone.
HBMD marked the beginning of a new personal struggle.  I needed to figure out how I was going to balance the family life and the artistic life, or if those two lives could even exist together at the same time for me.  Would my Sandbox home allow exceptions for Lisa the mom?  Could my family permit space for Lisa the artist?  Questions I struggled with for years.
Heather Stone
A beautiful show to look at. The content wasn't up to our usual standards. It was….a whirl wind, to say the least. We lost our way during the creation period and lost a lot of trust and confidence in ourselves as a company I think. I should have stepped up more, but I was probably too numb to know how to do that.
We lost our way when Lisa left the show. It was a wake-up call to realize how much we rely on each other in the inner workings of the company – and didn't express that in words. We took each other for granted. There was a lot of anger, and there probably are still remnants of anger and frustration to this day. I guess what I mean by we lost our way is….I didn't know how to help Ryan with the show because I was probably too wrapped up trying to the ACTOR and keep these other non-Sandbox people focused away from the fact that the director left the show, but we still know what we're doing and where the show is going, look over here – oh, shiny object! This was the show where we also realized that it's somewhat important to have a stage manager who is familiar with our kind of work, or a company member at least, so that there was a sense of ownership and investment from that angle.  I love our stage managers….but I think we all agree often it's just not the right fit.
Ryan Hill
This piece started out inspired by Edgar Allan Poe's Masque of the Red Death and ended up somewhere near Dorothy in Oz.  That wasn't where I wanted it to go and everyone knew it.  After the run, Peter gave me a Wizard of Oz book as a… thoughtful gift.
I look back on this show more fondly than while actually watching it onstage.  A ton of lessons were learned.  It was beautiful, and really established the fact that we get the design thing.  We can make it all look pretty.  But it was a snorefest.  Few moments of excitement, very poor tempo management and an ending that was almost arbitrary.
Not to say we didn't work our asses off to make it good.  This piece really showed our little pod of Sandboxers needed to expand.  We just didn't have the capacity to tackle something this ambitious with our small company. There are lasting scars from this show.  We're pretty good at converting wounds to lessons learned, but it still hurt.
I unconditionally supported Lisa for leaving the show for the reasons she had.  Being an artist should support healthy families, not inhibit them.  But bolting a show mid-creation is a violation that's hard to get over.  I was over-burdened and suddenly became super over-burdened.  And the show reflected that.
Instead of having Lisa's tempering force of "less words, more movement," the show got right talky.  And where I had been relying on her to counter my instincts toward control, without her in the room, I grabbed the creation process by the throat and throttled creativity out of it.  In that stress, the worst of my leadership tendencies came out.
I've never felt Sandbox closer to dissolving as I did after this show opened.  I had asked a lot of everyone and delivered an average experience.
At least it left awesome photos.  Another lesson learned – if you're going to do average theater, make sure the pictures are beautiful.