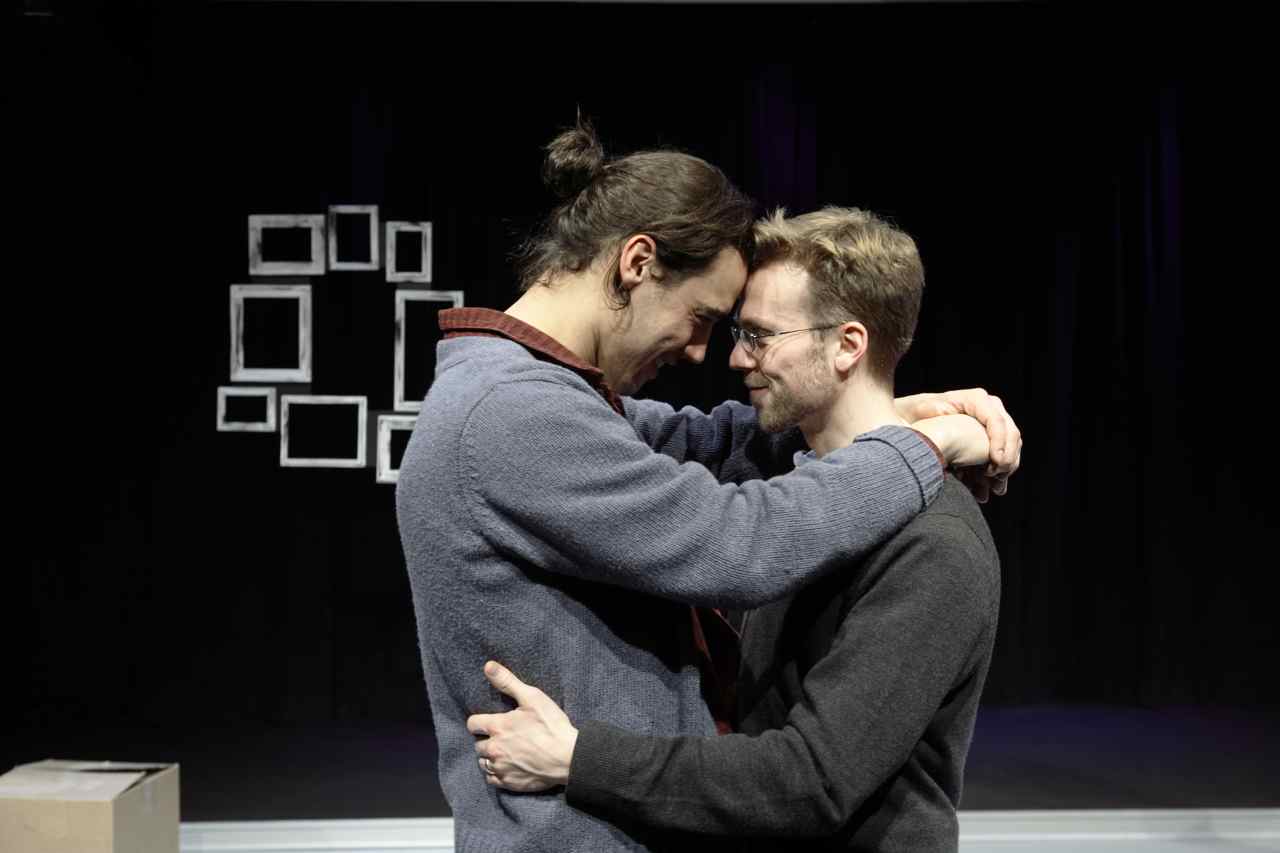 What Remains
March 2007 at The Red Eye Theater, Minneapolis
An intimate, three-person play about loss, regret and the pain of reconciling your image of someone with the reality of the life they leave behind. This was Sandbox's first experiment in naturalistic storytelling and brought to light problems that are still topical. Staged in collaboration with The Red Eye Theater, Minneapolis.
The play, which the Star Tribune called, "a timely work that tugs at the heart and pricks the conscience" ran through March 1st to the 23rd.
Written & Directed by Ryan Hill
Costumes by Andrew Lawrence Schiff
Lighting by Phillip Marten
Stage Manager: Lisa Smith
Cast:
Matt – Danny Salmen
Mrs. Barclay – Cathleen Fuller
Erik – Erik Hoover
All Photos by Richard Fleischman
History
Ryan Hill
Some stories have stories. Grab a hot tea, sit back and get comfortable for the tale of how the most un-Sandbox of all our shows came to be.
Andrew and I met just before New Year's 2000 (yes, this is a historical epic, relax).  I moved in with him less than three months later after getting evicted by the Jersey City mafia.  What Remain swas written soon after that. It's an obvious expression of my anxiety about being in my first serious relationship, the worries about being in homo-relationship and the flat-out terror of admitting I was gay.
I put together a few public readings and the feedback was very positive.  When I decided to produce it, things moved quickly.  A generous backer footed the down payment for the Red Room Theatre on West 4th Street in the East Village.  I had a cast.  I was fretting over the set design and where the hell to build a set in our tiny Manhattan apartment.  We were all stoked and it had everything going for it.  Except the date.
I signed the contract to the theatre on September 7th, 2001.   The next Tuesday this play was the last thing anyone wanted to think about.  We couldn't put this show up.  How long before New York was ready for a play about death and regret?  The theatre was shuttered.  The down payment was lost.  The play was put in the back of a very deep mental shelf.
Personally, few shows have helped define what Sandbox shows are like than What Remains.  it wasn't a Sandbox show.  It wasn't ensemble-created.  It was traditional.  It was naturalistic.  There were three performers moving like real humans do talking like real humans do.  Andrew did costumes and I directed.  No other Sandboxers were involved.  It didn't have to be Sandbox, it could've been any other theatre in any other city with a playwright determined to exercise his demons in public.
I can be convincing.  If not flat out belligerent.  Whatever I said to convince Heather and Lisa to go along with producing this show must've made sense.
Don't get me wrong, I like the show.  But it was wrong.  I wasn't a traditional theatre director.  I didn't know how to balance the needs of a seasoned performer and Cathy was frustrated.  I didn't know how to pull out the best from an inexperienced performer and Danny was frustrated.
I won't diminish the work we all did to pull that show together.  We worked hard and I know people who hold that show very dear.  But producing it was more like a vendetta than an artistic need.  I'm going to finally produce this show no matter what, damn it.
In the end, I've never done a show that was so profoundly fulfilling and so deeply embarrassing at the same time.  What Remains lit up the way I wanted to take Sandbox as Artistic Director.  And that way was not rifling alone through the dark shelves of my mind.
Cathy Fuller
In 2007, Sandbox Theatre decided to produce Ryan Hill"s play, What Remains, this fledgling theatre company needed a woman of a certain age to play the role of Vivian Barclay. They took the extraordinary step of deciding to cast an actor who was a member of Actors' Equity Association, the professional actor's labor union. It was a big leap as it required them to work put forth an expenditure of salary and contributions to the health and retirement fund…not easy for a theatre company operating on a shoe string budget. I was the recipient of this partnership. I love working on new plays and when I met with Ryan, we discovered that we had a very interesting connection. He went to college with my son and both were majoring in theatre. Small world and made me feel very old. This play was a personal project for Ryan…he wrote and directed it and there were many autobiographical elements to the story. My character was based on his mother. This is a little intimidating to an actor as he had some very specific ideas about this woman. Sometimes I felt as if my instincts clashed with his memories of his mother. We looked at her from very different perspectives and I recall that we were able to work out those differences during the rehearsal process. Because I had a son the age of the young man in the play who played my son, it was easy to identify with her.
We opened in mid-March and Sandbox did quite a bit of promotion to get a good crowd on opening night. I seem to recall that we had a pretty full house booked for opening but then a dreaded event occurred. Starting the night before, it began to snow…it snowed all day of our opening and by the time I needed to get to theatre, about a foot of snow had fallen. Needless to say, the cancellations came in droves and on opening we played to about 25 intrepid souls who decided they were true Minnesotans and nothing would keep them away from a night in the theatre. Of course most of the audience were close friends and relatives plus the company itself. It was so disappointing to be thwarted by the weather. We had a great show, the people loved it and we had lots and lots of food to eat at the opening night reception which should have been for 100 people. I enjoyed working with Erik Hoover, who played my dead son, and Danny Salmen, who played his lover. The boys and I had a ritual every night of the run. I had received a copy of Jon Jory's wonderful book, Tips for Actors. They were terrific and mostly one page. So every night in the dressing room we all shared (no modesty there) I would randomly open the book to a page and read a tip. We then set about discussing the tips…and found that they were very helpful indeed. I haven't seen Danny in ages and run into Erik every now and then but we had a good time together. The rest of the run went smoothly…no more weather events…good reviews and some decent houses. Bravo Sandbox.
Heather Stone
Another proud moment I had for Ryan for writing this play and getting it out there. Too bad no one saw it.