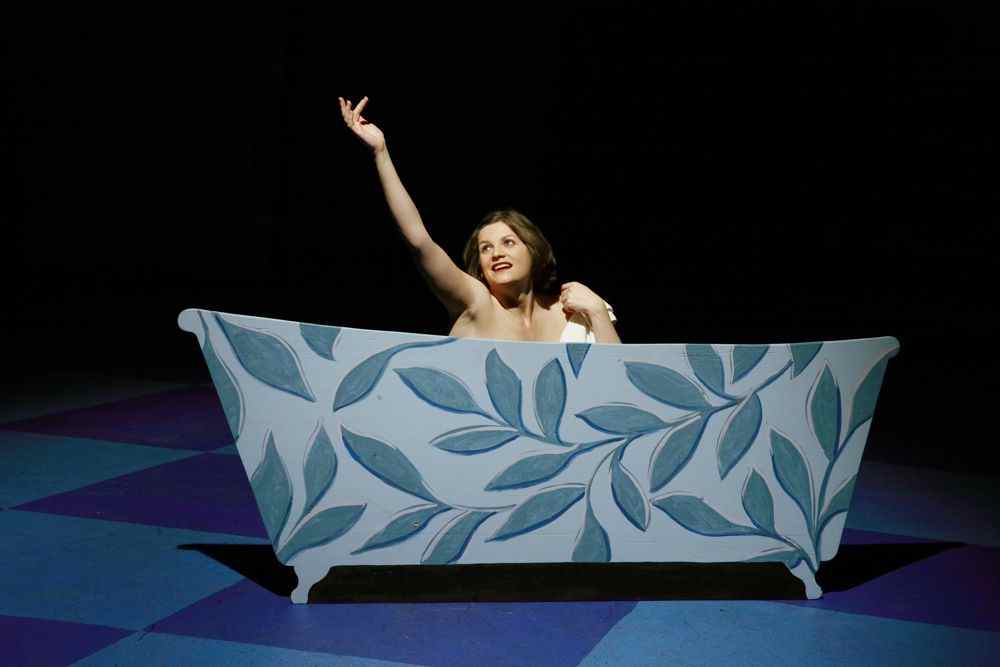 Zelda: Wonderland
Opened October 28th, 2006 at The Red Eye Theater, Minneapolis
An ensemble-created piece based on the enigmatic and tragic life of Zelda Fitzgerald. We called out this vibrant, colorful woman from the shadow of her famous husband and let her dance.
Directed by Lisa Moreira
Sets by Joseph Stanley
Costumes by Andrew Lawrence Schiff
Lighting by Phillip Marten
Sound by Montana Johnson
Lisa Smith: Stage Manager
Costumers: Leah Erato, Sally Hartman, Bonnie Vig
Cast:
Zelda Fitzgerald – Heather Stone
F. Scott Fitzgerald – Wade A. Vaughn
ensemble/Jozan – Peter Heeringa
ensemble/Madame – Lina Wiksten
ensemble/Hemingway – Ryan Hill
ensemble/Judy – Megan Campbell Thiede
All Photos by Richard Fleischman
History
Lisa Moreira
Although Zelda's story is very extreme, I deeply identified with Zelda's desire to be a great artist, and constantly being held back by her own demons.  Zelda's demons being the time she lived in and society's expectations of what a wife and mother should be, a domineering, alcoholic husband, and being surrounded by examples of the kind of artistic success she so desired but could never grasp.  Sometimes the fear of actually achieving that which you most desire can lead to self-sabotage.  For Zelda, it meant insanity.  Like I said, her story is extreme.  I just connected to her and felt inspired by her tragic life.
I first learned of Zelda's story while I was living in New York.  I read a biography on her, and as I sat in Washington Square, I could imagine Zelda and Scott jumping into the fountain that was once there.  She seemed so much alive in New York to me.  After I moved to Minneapolis, I discovered my passion for collaborative theater, and Zelda's story started appearing to me in stage pictures.  I began researching her further – read the fiction she wrote, sought out reproductions of her painting and drawings, read numerous biographies on her, on Scott, on her and Scott.  I was obsessed with the research.  During this time I began working closely with a theater colleague who became my mentor, and he encouraged me to retell Zelda's story through theater.  He also encouraged me to direct it.  Sandbox provided me with that opportunity which I would have never had.
The main thing I learned from directing this show is that, despite all the hurdles and pains and wanting to drive my car off the Lake Street bridge into the Mississippi after every rehearsal, I love directing collaboratively-created work!  I learned that that is where I find the greatest satisfaction as an artist.  I learned that I had a lot of growing to do, both artistically and personally, and that I wanted to do the work required to achieve that growth.  Exactly what the work was, I didn't know.  But I knew I wanted it, and I knew my colleagues in the Sandbox would help me get there. Eventually.
Honestly, it was hard working on our first ensemble-created piece.  This was the first show in which we did not have a pre-written script.  This was this first show in which I was the lone Leader – director and project lead all in one.  I had a very clear vision of what I wanted for this show, but I was not good about sharing that vision with my cast.  I learned that the vision must be shared in every detail, openly, or else my collaborators will be working in the dark, they will be hesitant and even resistant.  That makes for a tense rehearsal room, and made me very, very sad and alone.
However, as an ensemble, we tried on various methods of creation, learned to use the strengths present in the individuals in the group, and began the process of defining how we do what we do.  And saw that we could create an original, beautiful show, as a group.  Our group!
Heather Stone
Lisa has a great passion for Zelda and that time period. She got me geeked up on Zelda and Lisa wanted me to play the role, so, yeah, I was drawn to Zelda! After reading two bios of her….wow. Depressing. All you mostly ever hear about Zelda's life is F. Scott Fitzgerald…..and here was this woman who was smart and vibrant, who fell for the wrong dashing dude and her life imploded. Her story needed to be told. I think this was a wonderful show. It was beautiful and touching  – sensitive – and definitely had a female touch to it.
So…I was naked at the top of the show. But for some reason, I didn't have a problem with that, like I had in Victoria to "be" sexy…I had the mindset of hey, yo, I'm nekkid – I dare ya to look at me. I dare you to NOT look at me. And I think that's how Zelda might have felt, too. I think being naked on stage is a lot easier than trying to "act" sexy with not a lot of clothes. I also loved the costume change out of that naked scene – two gals yanking clothes onto me and shoving me out into the dance scene where Zelda meets F. Scott – and one night the zipper didn't go all the way up – soooo scary and thrilling!!!!  I did the little dancey number with Wade and I can only assume he saw the "hey! My dress may fall down at any moment" look in my eyes…and somehow I managed to get slightly off and whispered to Megan – zip me up!
An "issue" or vibe that was frustrating at times was the feeling that the "leaders" of the project weren't on the same page…meaning…needing to let go and let the director lead and make decisions – and make mistakes – without a sense of "someone's watching you to see that you do mess up".  This was the first show that Ryan wasn't "in charge" of – and it was a learning/growing up moment for all of us involved. We should have had better communication with one another as the process went on. We've learned from that and I feel that we're much better at overall communication. We're learning not to take each other for granted and realize that we're not mind readers.
Another really good, strong show, if you missed it. This show should be done again. It'd be a good touring show, I think. We met some really great people in this show who have become Sandbox members and really great fans of the work that we do.  This was a labor of love.
Peter Heeringa
I think it is important to note that Zelda: Wonderland was my first show in the real world outside of the safety of the educational setting.  Zelda,thus, had a substantial impact on me.
I remember a feeling of excitement and dread at being asked to join the ensemble of Zelda: Wonderland.  Here I am, just out of my undergrad and getting to work with people I've seen (and admired) in shows at 15 Head.  People I respect want me to be part of their process!  What if I disappoint them?  What if I get to keep working with them?
As an undergrad I had worked with Jon Leiseth on Richard the Third; met Lisa; and learned a bit about ensemble process.  This turned me on to the idea of ensemble creation in a fierce way.  Getting the opportunity to try it out I jumped on it.  The early rehearsals I remember the sense of feeling like I needed to prove my worth.
In reflecting back on this time the initial meetings of the members of Sandbox and the development of relationships with them over the course of the show strike me.  I remember early on being very intimidated by Ryan and Heather and Wade.  I interpreted them as opinionated, vocal, and critical and I was new to working with not only them, but working outside of a university setting as well.  This set a certain external and internal bar that I felt I needed to achieve in my work as a creator and performer.  It has impacted me deeply as a person and artist.
There was a whirlwind of creation process that occurred around me and I just rode the wave.  I knew there were large decisions being made about the piece but I rested in the creation of specificity and my own movement score.  This was a useful way for me as an outsider and beginner to give attention safely without feeling like I needed to solve major challenges or come to a place where I might have to butt heads.
I deduced quite early that these Sandbox people like to drink and argue but somehow end up getting a long and creating beautiful work.  I still think I was right.  There was decidedly a collection of solid elements of aesthetic and mission to me: a blend of high arts – dance, painting, theater; a visual painted aesthetic; value of trained ensemble with shared vocabulary; devoted work ethic; and a strict anti-mime sentiment amongst the core ensemble.
What I remember the most about creating this piece are the rehearsal spaces.  I recall the architecture of the Heart of the Beast space and the sticky freshly mopped floor, traces of the aroma of stale beer and sweet cleaning agent attempting to cover up the history of a wedding or party from the night before.  Pillars around the space with bright daylight pouring into an alcove in the northwest section of the room where Lina and Wade presented a composition; I recall them using a nurse's hat and thick plastic martini glass.  Lina found out she was going to have a baby!
I remember the feeling of being overwhelmed by the "Stations" set up around the room.
Creating Bunny, the all-American-gesture; raising myself to full height, tilting the head, looking off to the north east horizon and running one hand down the back of my neck, letting my muscles flex as my arm contracted.
Repetition.  Repeating the "party scene" over and over and over and over like some twisted method of finding the devolved party.  And tempo.  Direction utilizing viewpoints vocabulary to shift elements of the space/process.
During tech week I was interested in helping with the light hang as I had recently done a few technical theater and lighting classes.  Phillip was glad to have a helper and so we met up early one morning to do the hang.  I recall looking up into the rafters of the Red Eye; seeing a bucket with plastic taped on so as to maximize catching leaks in the roof; aluminum 1x duck taped in between pipes holding lights which I doubt were safety chained, and recalled the tales of the bat(s) that would swoop to and fro in performance.  I commented on some of these issues and Phillip laughed, turned and told me, "welcome to the world of professional theater, kid." and proceeded to climb up to an I beam and scurry to and fro to hang lights.
Megan Campbell Lagas
So much fun to create and perform, I loved every minute of it, I showed up at rehearsals that I wasn't even called for.  Going into it was a bit daunting at first because I knew how long the idea had percolated in Lisa's brain and so I felt like the stakes were high to make something WONDERFUL.  But Lisa's style as a director/creative facilitator was so organized, succinct, and full of laughter (also thanks to Sara Richardson) that my apprehensions were soon forgotten.  The process was very 15 Head-esque and so familiar to me.  Most of what I did was physical, the words were mostly carried by Heather and Wade, written by Ryan I think?  I remember working on a lot of physical composition for the scenes, especially "the party" and "the doctor dance."  Lisa had clear tasks and expectations which I found to be conducive to creating.  I also think since we had all mostly worked together before and it was a small ensemble, there a was an atmosphere of familiarity.  Nobody was putting on airs or trying to stand out (which often happens with actors).
Performing the show was very intense and just exhilarating, I mean the costume changes alone were just nuts, and I know I already said this but it was just so much fun!  I played F. Scott in a chorus of F. Scott's, a WW1 soldier, Judy the party girl flapper, a nurse, a ballerina…all in rapid succession, I was working my ass off to create a backdrop of characters.  Also exhausting – doing the Charleston to Django Reinhart on high speed – Oh my God how many times did we rehearse that with Lisa and Sarah in the audience yelling "Faster! Faster!"  I was determined to get the fringe on that red dress to bounce to the music, but it was so fucking fast!
While this show brought me a lot of joy it was NOT a joyous show.  It's a strange dichotomy to feel so euphoric performing a play that is very, very sad. The feedback I got from people was like, "dark", "depressing", and "turgid."  But it did resonate with a lot of people too I think.  Some people told me it reminded them of women in their lives that had suffered from mental illness, or suffered from the mental health industry of the past.  The theme of not being supported by family and/or society to be creative and yet needing on a very primary level to be creative came up a lot too.
I still have a flattequin in my basement.
Ryan Hill
One of the themes of Zelda was to have all the "extras" played by flattequins – human-sized cutouts with oversized floral prints painted on them. They were super cool and such a pain. They were constantly losing limbs and appendages. But the best prop ever was when Heather had to "give birth" to Zelda's girl, Scotty. The plan was to have her cut out a child-sized paper doll. Easy enough.
The first time Heather did it, there was no outline and she was just winging it with the scissors. She kept doing her dialogue with Wade and started cutting. I remember the rest of us watching in confusion, then horror, then uncontrollable laughter as this bizarre, malformed baby started taking shape. Wade wasn't watching her cut it out, so he was dutifully playing the scene straight, which just made us laugh even harder.
When it was over, poor Baby Scotty emerged as this… inhuman squid-like blob that the proud parents had to fawn over their perfect baby. Then they both looked at it for the first time with widening eyes. We all absolutely lost it.
I have never laughed harder, longer or more painfully in a rehearsal room.
For the closing night party, we had a cake made in the shape of Baby Scotty.