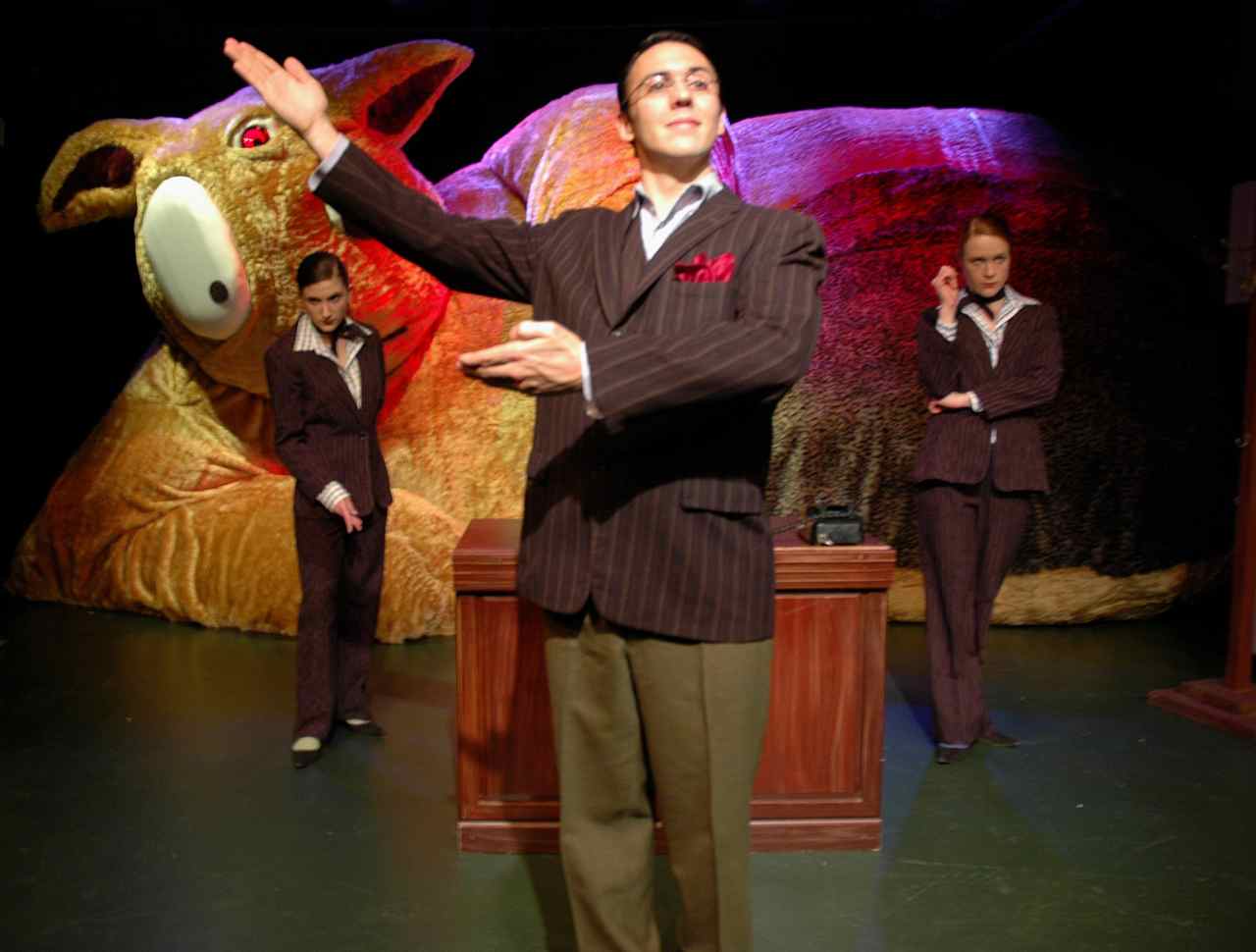 Koogoomanooki
Opened March 3rd, 2006 at The Red Eye Theater, Minneapolis
A tense, absurd comedy with indelible characters, Koogoomanooki left a huge impression. An example of extreme scale. You might not be able to pronounce his name, but you'll never forget him.
Written/Directed/Set/Sound by Ryan Hill
Costumes by Andrew Lawrence Schiff
Lighting by Phillip Marten
Artwork by Jake and Allie Nassif
Patricia Gavin: Stage Manager
Cast:
Gil Salvatore – Derek Miller
Tyler Taglimont – Nathan Surprenant
Ms. Blanc – Alayne Hopkins
Attendant 1 – Alia Mortensen
Attendant 2 – Avye Alexandres
Mrs. Behrens – Heather Stone
All photos (c) Ted Roseen
History
Derek Miller
My first experience with Sandbox was like Alice falling down the rabbit hole; and I mean that in every sense: it was weird and fascinating and inexplicable and infinitely frustrating.  When I auditioned for the show, I knew nothing about Sandbox or anything about anyone in the company.  I was a young actor, fairly new to the cities, and I went in to the audition like any other of the dozens of auditions that I had already done in town.  About five seconds into my monologue, I could tell that the writer/director of the show (and artistic director of the company) was not at all impressed with me and could only thinly veil his desire to keep me from continuing to speak.  I walked out of that room thinking, "Well, I didn't get that part."
But, I did get the part.  I found out later that Ryan (the writer/director/artistic director mentioned previously), had been talked into casting me by the other members of Sandbox that had been sitting behind the audition table.
I was happy, like any young actor, to have a show to do.  Koogomanookiwas one of the first productions I was a part of after moving to the Twin Cities. I had no idea what I was in for.
My first impression of the company was, "Oh, god, this is a mess."  I read the script, and I didn't understand a damn thing in it.  I didn't know what it was about, I didn't know what it was saying, and I sure didn't understand the basic philosophy behind the company; but, like a well-trained young actor, I soldiered on, confident that I would eventually figure something out.
I didn't.
I plunged headlong into a month of rehearsals that consistently left me perplexed and stunned (and usually not in a good way).  It was my very first experience in wanting to punch the director right in the face.  In attempting to explain any tiny thing in the show, Ryan would unleash a torrent of words that ultimately confused the actors more than they had been if they had simply kept their mouths shut and never asked things like, "So, why am I doing this thing?"  (Of course, since then, Ryan has made impressive strides in communicating his ideas to everyday people, and the rest of us have made great advances in translating Ryan-speak into understandable language)
It didn't help me that I was essentially playing the straight man in the world of weirdness that was built around me.  Even though I had people playing extreme characters all around me and a 20-foot-long, 3-eyed stuffed animal behind me, I was expected to keep reacting to things like a normal person.  I didn't really get it then.
On top of that, I, the sucker that I am, agreed to volunteer some hours to help build the set.  After all, I had been a set builder in college, and I worked for a home remodeling company at the time, so how difficult could it be to spend a few hours knocking together some flats?
Well, I said things like that to myself before the Master Carpenter that the company had hired decided to quit showing up to builds, and I found myself getting drawn further and further into late nights of frantically building PVC scaffolding for the above-mentioned 20-foot-long, 3-eyed stuffed animal.  By the time we loaded that monstrosity into the Red Eye Theater, I was sure that I would never work for these crazy, disorganized people every again.
Fortunately, I was wrong about that.
To this day, I'm still not 100% sure what the show was about.  I'm not even sure if Ryan is 100% sure what it's about.  But, the few people that I know today who saw it then continue to talk about it and regard it as one of the most interesting nights of theatre that they had ever been to up to that point.  There was something compelling in the aggressive weirdness of the show and the willingness of the company to push conceptual boundaries and ask its audiences to actively think while they are watching the show.  Though I didn't comprehend it then, I know now that the seeds of something new were planted during the run of that show; and, even though I still vividly remember wanting to sock Ryan in the jaw, I'm glad that I stuck around to see those seeds begin to bear fruit.
Heather Stone
Mrs. Behrens is a fabulous character. I thought Ryan was crazy in rehearsal with how he wanted me to walk, etc. I couldn't get it. Then when I finally got it – I think getting a skirt and heels was key…. I'd never done a role like that before and once I accepted how she was going to be – such a joy to perform. To this day myself and others still say "Yessss." Or "Indeed" and that's so great!
What I had to "get" about her, I think, was wrapping my brain around that she is/could be a real person, somewhere. I had to embrace her "oddness"/quirkiness/fabulousness and basically, bottom line, give myself the permission that I was good enough to do the role that Ryan was entrusting me with. I seem to have this pattern of putting a lot of pressure on myself whenever I do a role that Ryan has written. Once I realized that Ryan thought I was on the right track with her and I realized that yes, I can do this role, I just relaxed into her and as I said before, I'd never done a role like that before — the whole voice thing, the physical look — her whole style was totally out of my "usual" acting tool box…and what a thrill it was to discover that I had that in me to do that on stage. (cue string music and get me tissue!).
Oy, the boxes…and how they had to be the right colors of paint. I just wanted to scream. But that's part of the high standards that Ryan has for the company…and having never had to be involved in those "parts" of creating a piece…it took me a long time to come to terms with how important those parts are, if not more, to a final production.