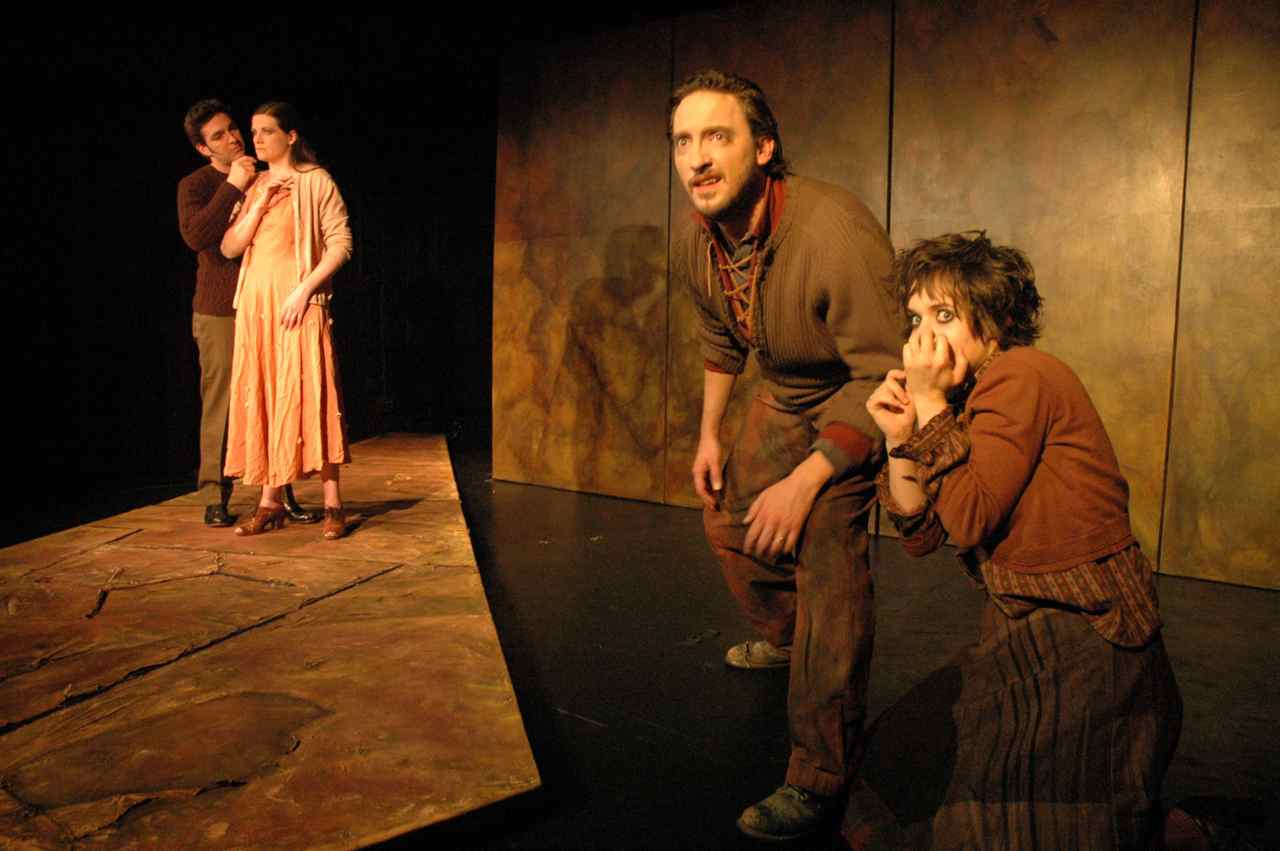 Victoria In Red opened June 6th, 2005 at the Bryant Lake Bowl Theatre, Minneapolis.
Our first show as Sandbox was a sexy, highly-stylized revenge play. We rebuilt the tiny Bryant Lake Bowl stage with a runway into the audience and launched our brand of dark stories, bright colors and big characters.
Written & Directed by Ryan Hill
Co-Directed & Choreographed by Lisa Moreira
Set by Patrick Parsons
Costumes by Andrew Lawrence Schiff
Cast:
Victoria – Heather Stone
The Man in White – Wade A. Vaughn
Abby – Sara Richardson
Jeffers – Sean Byrd
Mono – Jim Bovino
Gallery not found. Please check your settings.
History
Ryan Hill
Hey!  Let's put on a show!  We can use the old store front next to the bowling alley as a stage!  I know a designer!  I know a painter!  Great!  Now all we need is a story!
Hey – how about a revenge dream play about a woman killing the man who talked her into killing a woman they had a threesome with while they were in high school and hid her body in an apple orchard but now they're grown and she's married to someone who could possibly be the sheriff and she kills both of them – and there's a creepy overly-religious neighbor who likes tea and hears things buzzing in the sky – oh, and there's a man dressed completely in white who goads her on to killing everyone, leaving her alone and miserable?  How about that one?  Zowie, sounds fun!
Isn't that how all theatre companies start?
We chose Victoria in Red as our first show for a few reasons.  And they still sound logical.  We knew we wanted to be a design-focused company, and the piece offered some fun design ideas.  We wanted a female lead for Heather.  And we wanted something unusual.  Check, check and check.  We also consciously chose to kick off the company with a pre-written work, even though we all wanted to do ensemble-created plays.
It was sort of a test run for everyone.  Including the audience.  If people liked seeing Heather onstage in a red nightie, palm pressed forward, reading vaguely stylized text while Wade barked at her in full-white makeup, then hell, we've got an audience!
We launched Sandbox with a show that really dug deep into the "trust me" bucket.  And I was the one asking folks to dole out the most trust.  I had no idea what people would think of the play, and really, that's never much of a concern.  We can't control if you'll like the show.  But we can control how well we do it.
Sara might have never understood why she had to drop into a defensive crouch and trace a slow arc across the sky while wearing four skirts and screaming "Parasites!  Parasites!"  But if she did it, she was going to do it beautifully.  And that's one of the moments I think helped plant the seeds of what continues to develop as the Sandbox aesthetic.
I have two enduring images of creating Victoria.  One is of Andrew and I in a church basement taking turns walking like drag queens, trying to teach Heather how to walk sexy.  I'm pretty sure that's the first time I made Heather cry during a show.  The other image is that fucking floating apple.
To this day, calling something a "floating apple" will put the brakes immediately on whatever is going on.  It's shorthand for something that might be technically cool, but the energy going into making it happen has now completely exceeded whatever value it brings if you can actually make the damn thing work.
So the apple never floated.  Thankfully.  Because something else this first show taught us is that if you never try to do something you absolutely can't do, then you'll only do what everybody else can.
Heather Stone
What was it like creating our first show?  
We didn't know what we were doing. I mean, we (Ryan, mostly) knew what he/we wantedfor the show for the most part, but it was a lot of figuring out on the fly every aspect of creating this show – who do we cast? Who is gonna build the set…can we have a set on the stage at the BLB?! How do we get people to see the show….how many postcards do we order? How do we pay for this?! Talk about jumping over a cliff and seeing what splats out – 'cause that's what we did. There was a lot of pressure – this is a new company, so how do we stand apart from all the other small, non-profit, homeless theatre companies? What makes our art different – better? It's our names attached to the company, our calling card – so….here I am, saying: Hey! Heather Stone here thinks this is super duper great NEW art that we're creating and that's important and you should all support it. That's kinda ballsy, and not very MN nice. Also, these were Ryan's words – I wanted to get how he saw the character right…he wrote it, so he must have a strong feeling/sense/vision of how he sees the character and everything involved in the show. And he wanted me in the role – yikes. So….step up, Heather and figure this out and do it. To this day, "ill omened weeds" makes me laugh/haunts me.
Blargh. I had to be looked at as physically and sexually desirable. Not my comfort zone. At all. Still isn't. Everyone tried really hard to help me get over whatever it is/that was that holds me back in that area and we just couldn't get me to be where that character needed to be. I feel like I let Ryan down. And I'm not just saying that because I know Ryan is reading this. And myself. I learned that there are some walls I cannot knock down for some reason and that holds me back as a performer. Maybe I need to go to therapy.
If I could travel back and give myself advice, it'd be, "Heather, isn't this exciting?!" You're starting a theatre company (again!). These people want to create art with you! You're creating a new play and a new character that has never been seen anywhere in the world, and probably never will be again! So, have FUN and just try a bunch of things physically and vocally and speak up when you have any questions or thoughts at all on the character or the show overall. Don't worry – it will all come together. We're all in the same boat.
If you didn't see it, you missed a good show, if you didn't see it. We transformed the stage of the BLB – I've never seen anything done to it like what we did. There was a lot of building of trust and birthing of what Sandbox was/is going to become. And floating apples.
Wade A. Vaughn
Victoria in Red came my way at a time when I was working with many new companies that were focusing on creating new work.  I remember thinking "this is the age of the playwright."  So I was honored to add Sandbox and their inaugural show, to the resume.  I had worked with Ryan and Heather and Lisa before in the old 15 Head days…so I knew this was going to be an event.  And they did not disappoint.  I will admit that I still am not sure exactly what the play was about…but it was interesting and forward and new and the Sandbox members were gearing up to take over the world.  Their energy and focus and fearlessness…and the fact that they never seemed to say "no" was so tremendous and the end result was purely "Sandbox".  I had never worked with the like – it was so restorative.
The process of creation for this show was different for me because I was working on another show at the time, so I missed out on a lot of the ensemble building and creation.  I played a character named the Man in White…and most of my part was monologue, so the ensemble didn't have to be/or wasn't called, and I only had like five rehearsals or something like that.  I didn't even meet most of the cast until almost tech.  If I had a regret it would be that I wasn't apart of the initial playtime.
I loved performing this piece, particularly because of the design aspects.  I had a love/hate relationship with the Bryant Lake Bowl.  On one hand it presented terrific opportunities for companies to do new work…on the other, it was a loud stinky nightmare of a theater.  Waitresses coming and going, bowlers whooping it up outside, dressing room a broiler in June…good times.  But what Sandbox did to really transform that stage was just awesome.  The artist we worked with was a metal sculptor (I forget his name) but he made this piece on the floor that was like a path that somehow made that 6 foot stage seem like it stretched on forever…  And the Man in White costume remains one of the sweetest costumes I've ever had.  Andrew Schiff, founding member and costumer extraordinaire,  took a suit and turned the seems inside out to create this kind of ragged, pieced look, then he painted in white…I shaved my head and was painted white from head to foot.  It was really cool…disgustingly hot in mid June, but really effective.  It was somehow very powerful…like a resplendent marble statue or something…