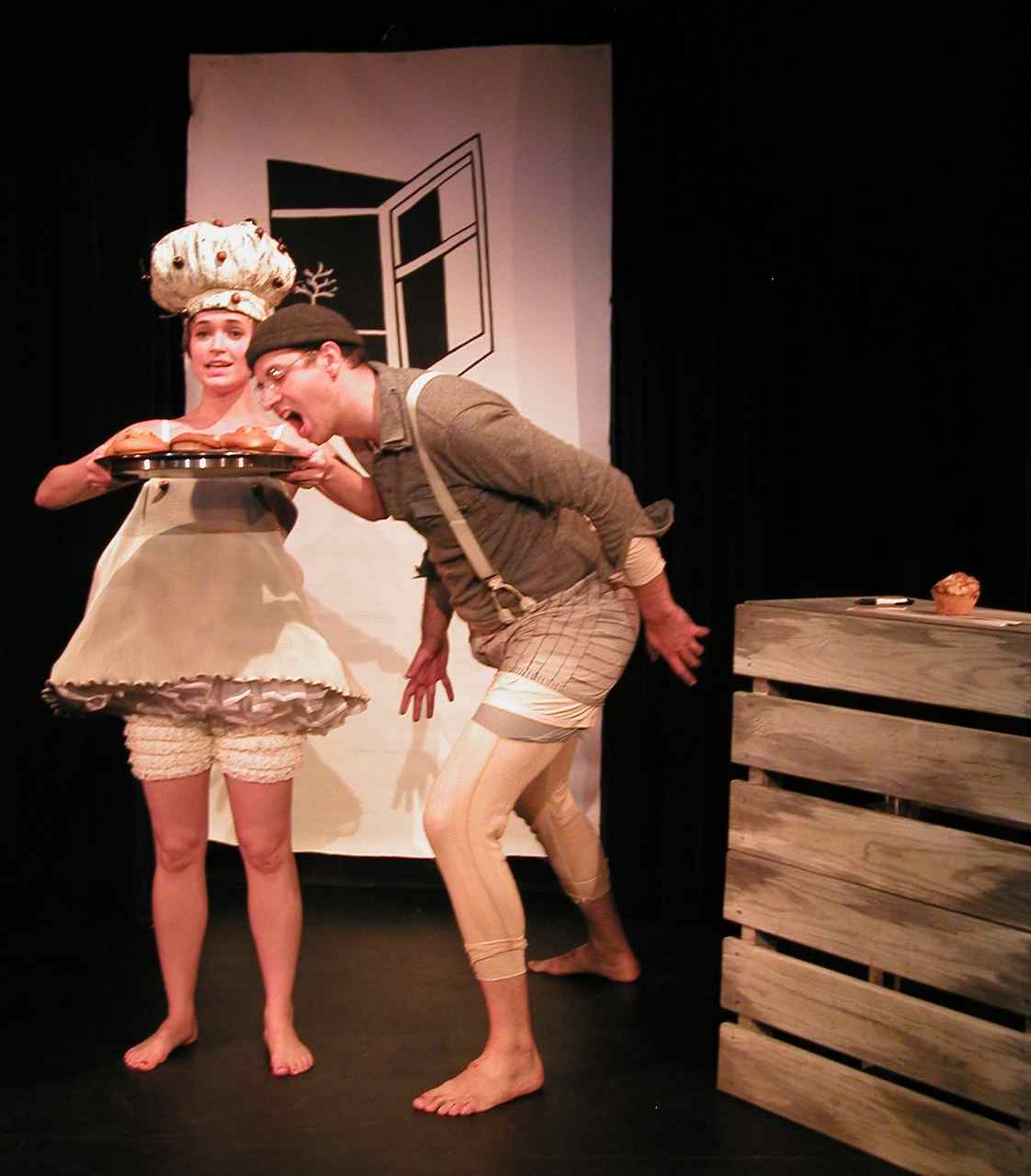 aphasiatica:duet
Opened October, 2005 at the Bryant Lake Bowl Theatre, Minneapolis.
A collection of six short plays, each based on the relationship between a woman and a man. It also marked the Midwest premiere of Hill's 2004 Samuel French Off-Off Broadway Festival winning play The Ferry.
Directed by Ryan Hill and Lisa Moreira
Written/Sets by Ryan Hill
Backdrops by Marcela Kratochivlova
Costumes by Andrew Lawrence Schiff
Rachel Mullins: Stage Manager
Press art by Lindsey Nohl
Cast:
John Doe – Paulino Brener
White Noise – Lisa Moreira, Nathan Surprenant
The Ferry – Ryan Hill, Megan Campbell Thiede
Muffin Hell – Paulino Brener, Sara Richardson
Running Start – Ryan Hill, Megan Campbell Thiede
Jane Doe – Sara Richardson
History
Lisa Moreira
I had a blast performing in this show!  Even though we didn't speak, we still had to memorize the text on the giant flash cards.  That was challenging.  I remember setting up extra rehearsal time with Nathan during the day at the office where we both worked.  We would sneak into an empty conference room and go over our lines and bounce around ideas – half serious work and half uncontrollable laughter.  I also remember the audience energy – it was very intimate in the BLB, from the stage the audience felt warmly, genuinely responsive and that makes performing so rewarding!
This was my first experience directing anything on my own, and I am grateful that Sara and Paulino were so willing and so patient.  The first things I tried with them, in creating staging in a collaborative way, were exercises that I had learned working in other companies' collaboratively-created works.  I quickly learned that every show is its own entity, and what is right for creation in one show, may not be right for the next.
Also, bakery muffins did not work as props.  They were too fresh, crumbled too easily, and had to be replaced for every show.  I found that the pre-packaged jumbo muffins from Super America were far superior as props due to their preservatives and large size, and only needed to be replaced when the actors started to complain about them.
Megan Campbell Lagas
The rehearsal process was pretty brief, I think, relatively speaking.  Since the script was already there and the scenes were just between two people, the directing was sort of do-it-yourself.  I mean I think Lisa was the "director" but I remember rehearsing a lot just with Ryan.  Lisa was performing too, so off rehearsing her piece I assume, or directing a different one.  In the church basement!  We would all go to our own churchy rooms – I remember doing a run through with everyone in the daycare space with play equipment strewn about, appropriately.  The characters evolved sort of instinctually for me through repetition.  The blocking was for the most part very naturalistic in the jumping-off-the-building one, The Ferry had some more stylized moments…swaying back and forth on the bench, I think those were Lisa's touches.  Now I'm starting to think that Lisa directed The Ferry and Ryan directed the jumping-off-the-building one.  In any case it was fun to have two BIG roles.  Very different from one another and both with challenges, a snarky New Yorker, and a despondent office worker.  The naturalistic style of these pieces required a lot more cerebral work as opposed to the more physical, 15-head – Sandbox work.  It was a fun departure.  Performing at the BLB was slightly cramped abut I loved the busy cabaret setting. The close proximity of the audience brought an intimacy that felt right for these plays.  Maybe because they were both about two strangers connecting in a big impersonal city.  It just felt very appropriate to have a bunch of strangers in a tight informal space.  Although it was truly scary standing on the ledge positioned at the end of the stage and swaying forward over people sipping their beers.  There was no "acting scared" there.  Also that ledge was made of 2 x 4′s with inch spacing and I had to pace back and forth in pumps, being careful not to get a heel caught in the gaps.  It's a wonder I never ended up face first in someone's nachos.
People liked this show.  I think it had that magic combination of humor and poignancy, realism and absurdism, that is a crowd-pleaser.  It was a play the parents liked.