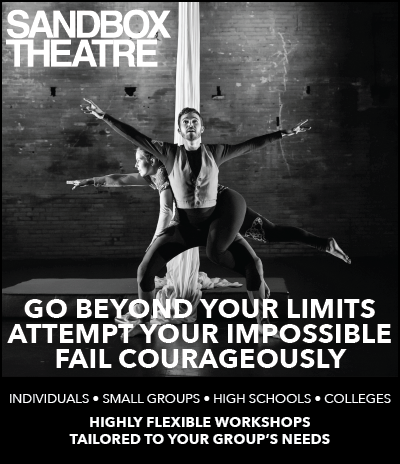 Sandbox Workshops are top class instruction for:

Individuals
Small groups
High Schools
Colleges
Corporate groups
Specialized workshops tailored just for you :
Our workshops are highly flexible and can be tailored to the needs and interests of your group; lean heavily into Physical Training, Creation, Ensemble Building, or explore a mixture of all of these elements.
Focused Experience :
Our workshops focus on increasing the awareness of the individual within the ensemble. We'll lead you through the active exercises our ensemble has been using for over a decade to create purposeful, truly ensemble ­created art.
Who We Are
Sandbox Theatre has been creating new performance art via our unique creation process since 2005. The Sandbox Process is an ensemble method grown from years of study and practice, honing elements of physical theatre, music, design and text into groundbreaking performances of style and imagination.
Sandbox Workshops are conducted by experienced members of our ensemble, who give participants tools to become better collaborators and help them create the unexpectedly poignant and beautiful a-ha! moments that are hallmarks of ensemble-created performance.
Sandbox has created workshops and curriculum for schools all over the Twin Cities area, such as:
University of Minnesota, Macalester College, Gustavus Adolphus College, Great River School, Mounds View High School and Hamline University.
Which one is right for you?
Mini Workshops:
Introduction to Sandbox collaborative process
Min 90 minutes max 3 hours
Maximum 25 participants
Intensive Workshops:
In-depth exploration of Sandbox collaborative process
3-6 hours/day or multiple short sessions
Maximum 35 participants
Collaborations/Residencies:
Create a production from the ground up with Sandbox or …
Incorporate Sandbox ensemble creation and/or physicality into your production process
Mini or intensive workshop length
Maximum 45 participants
Contact Megan Campbell Lagas for more information, or to book a workshop.