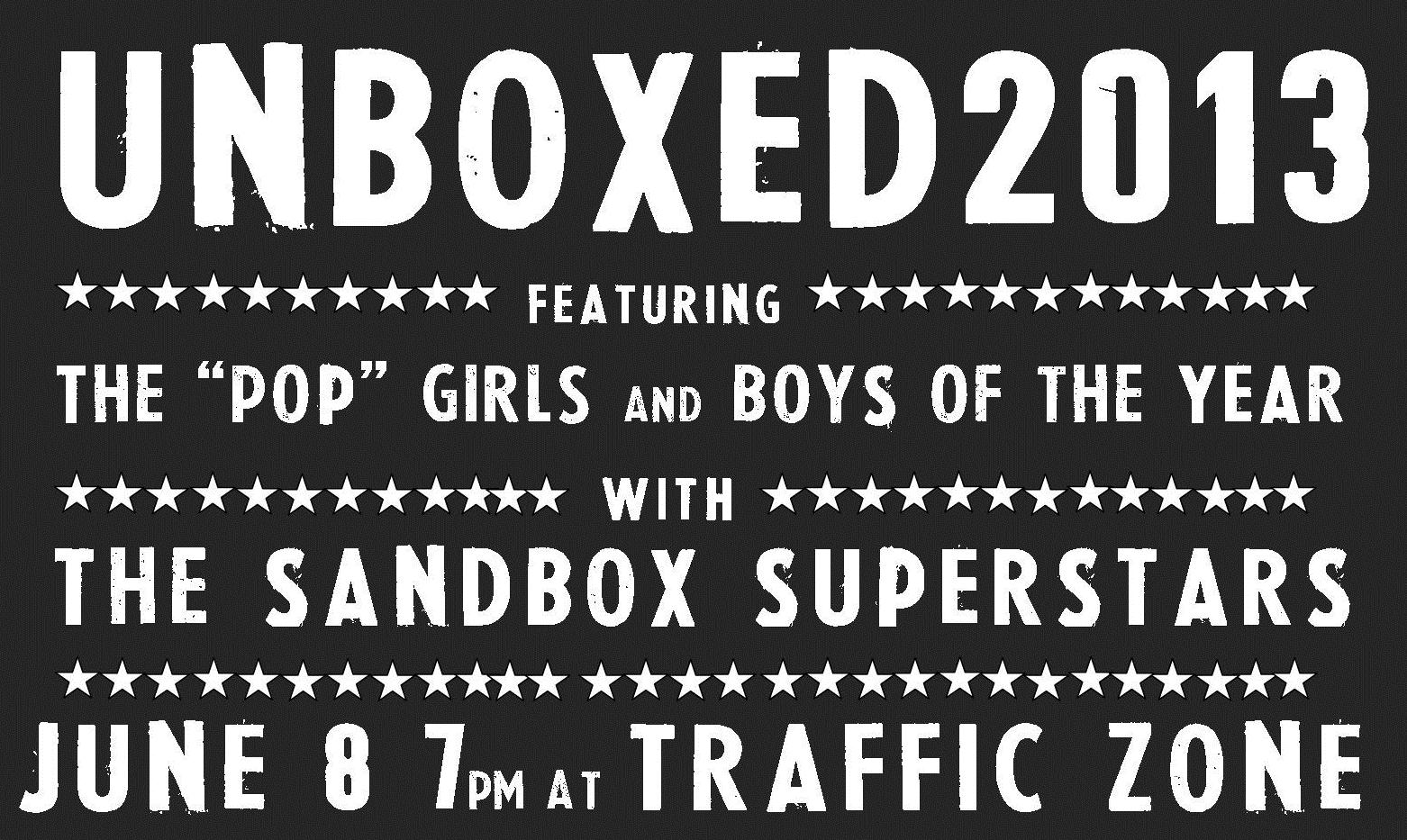 This Fall, Sandbox will dive into the world of Pop art with a brand new play inspired by Andy Warhol's 1960s multidisciplinary art making collective "The Factory." Join us Saturday, June 8th, as we peel back the cellophane and unbox THIS IS A WORLD TO LIVE IN!
WHAT: UNBOXED 2013 — a benefit for Sandbox Theatre
WHEN: Saturday, June 8th at 7pm
WHERE: Traffic Zone Gallery | 250 3rd Ave N | MPLS 55401
FEATURING!
Original artwork up for live auction from our featured artists: Beth BOWMAN, Crist BALLAS, and Kristina FJELLMAN | LIVE entertainment and previews | COMPLIMENTARY hors d'oeuvres desserts wines and BEER from MPLS' own FULTON BREWERY | Silent auction | Raffles | LIVE art-making | Giveaways and more…
UNBOXED is a unique way for our friends and supporters to invest in our new work. HERE'S HOW:
Each piece of original artwork will be put up for auction by Sandbox and our featured artists
If sold, the piece continues through the Sandbox creation process as a source image and point of inspiration for the creation of text, movement or character
THEN, the piece lives on as a PART of the show, serving as gallery installation piece for This Is a World to Live In
Once the show closes, you take your well-traveled artwork home with a great story to tell
Get your UNBOXED tickets NOW and make art happen!

ABOUT OUR FEATURED ARTISTS
BETH LORAINE BOWMAN



Beth is an American painter from Detroit, Michigan. Her paintings and mixed-media artwork have earned her several solo shows and a ton of accolades. Her colorful, evocative style is a perfect fit for a new brand of Pop, and we're bouncing at the thought of working with her.
Beth has studied in the South of France, holds a slew of art degrees, and is a huge supporter of women in business and the arts. We think you'll love her.
CRIST BALLAS



Crist is a sculptor, painter, producer, and one of those people who can say, "I'd like to try that," then does it better than just about anyone else. An EMMY-WINNING makeup artist by trade, Crist spent seven years as a makeup artist on the cult television series Mystery Science Theater 3000 and supplied makeup and effects for the 1996 feature film and the spin-off The Mystery Science Theater Hour.
Oh, and he won a FREAKING OSCAR as a part of the makeup team on JJ Abrams' Star Trek! Dude. An OSCAR.
KRISTINA FJELLMAN



Kristina is a painter and fiber artist whose style is a unique blend of ethereal beauty and expertly crafted discipline. She was a 2010 recipient of the Jerome Foundation's Fiber Artist Grant for her work at the Minnesota Textile Center, and her amazing work has garnered her featured status at galleries all over the Twin Cities.
Additionally, Kristina holds a Master of Arts from The College of St. Catherine, and has spent the past seven years performing on Minneapolis stages.
Kristina has also helped create several Sandbox shows and is awesome.

ADDITIONAL INFO
Online tickets are $30
Tickets can be purchased at the door on the night of the event for $35
We accept cash, check and Visa/MC for all sales and donations
We're adding more details about UNBOXED every day. Be sure to keep up on our social pages. Twitter | Facebook
UNBOXED2013 is graciously sponsored by: