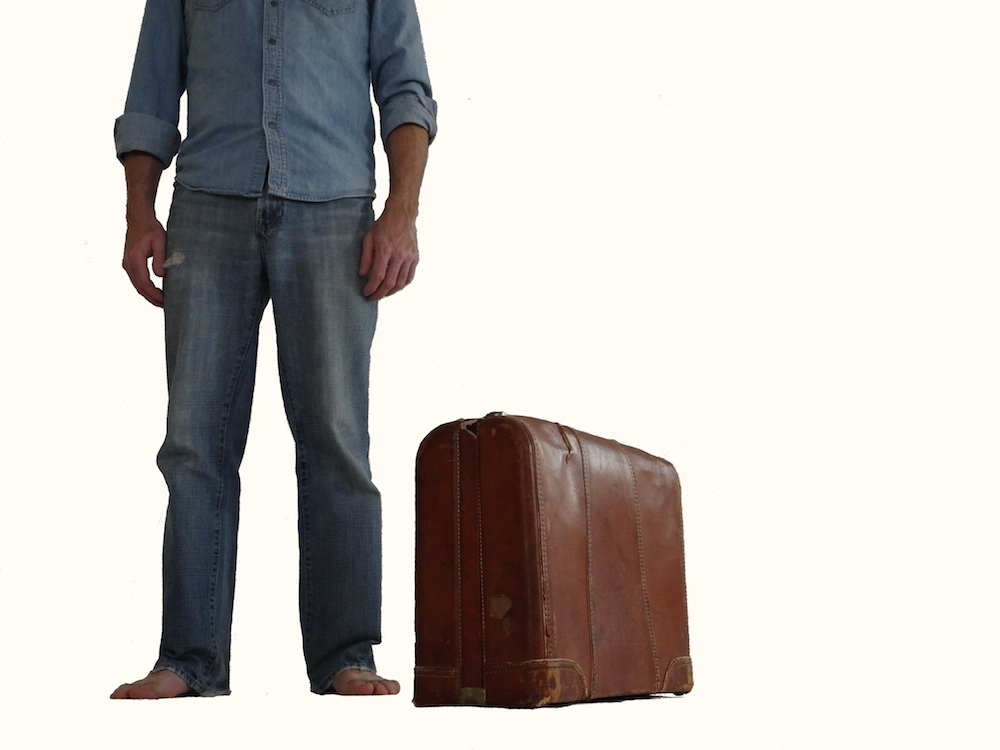 Suitcase ran Mondays from February 4th-25th, 2013 at the Bryant Lake Bowl Theater in Minneapolis.
Ensemble:
Mark Benzel, Amber Bjork, Andrew Lee Dolan, Kristina Fjellman, Peter Heeringa*, Cecilia Higgins, Mandi Johnson, Megan Campbell Lagas*, Theo Langason*, Derek Lee Miller*, Brian O'Neal, Ross Orenstein, Matt Riggs, Larissa Shea, Danielle Siver, & Derek Trost.
Project Lead: Derek Lee Miller*
Stage Managed by Lisa Day
*Denotes Sandbox Theatre ensemble member
Suitcase:
The Boyd Girls
The Boyd Girls braids together the dreams of a Prohibition-era Minnesota woman and the exploits of a Civil War spy.
Marie-Jeanne Valet, Who Defeated La Bete du Gevaudan
France, 1764. In the waning days of the golden age of the French kings, an unearthly monster begins hunting the people of the tiny province of Gevaudan. King Louis sends his personal bodyguard, Francois Antoine, with a small army to kill the beast before public outrage over the killings can undermine the monarchy. However, Antoine finds himself upstaged by a 20-year-old peasant girl with more resourcefulness than all the King's army. Based on a true story.
Grum
Grum finds it's origins through dreams.
Orange Ave.
Two lovers on the first day of cohabitation.
This will also be their last day together.
Because they are probably breaking up.
But they don't know that yet.
Shiny Things
A crow love story.
Ross Orenstein/Theo Langason present: Antwan Patton/André Benjamin present: Big Boi/André 3000 present: OutKast presents: Speakerboxxx/The Love Below: Play with Your Own Squishy
Is an exploration, interpretation or abstraction of the classic Outkast album Speakerboxxx/The Love Below. Using both the album and the broader history of hip hop culture as source material, Ross and Theo explore the dynamic dichotomies that both plague and produce hip hop, the mixture of the intellectual and the primal, the word and the rhythm, the individual and societal, the pimp and the poet. Hip Hop music bursts with complexity. Its existence as an art form is inherently political and potent. Underneath the shine of bling and swag, social commentary and cultural persistence boil and bubble, creating the volatile tradition that is hip hop music.
Suitcase was performed and created by:
Mark Benzel - Grum
Mark is a company member with Upright Egg Theatre and a Live Action Artist with Live Action Set (The Happy Show and The 7-Shot Symphony). He has worked with companies such as Sandbox Theatre (Unspeakable Things and The Horse, The Bird, The Monkey and The Dancer), Walking Shadow (Mojo and The American Pilot), Upright Egg (Love Project, Chuck Mee Project), 20% Theatre Company (elephant shoes and olive juice), and Old Log Theater (Treasure Island). He thanks friends, family, and fellow performers for all the inspiration and support they give him with his every leap.
Amber Bjork – The Boyd Girls
Amber is a Twin Cities-based actor and director. She is an artistic associate of Theatre Pro Rata and producer of The Winding Sheet Outfit. A woman of many weirdnesses, she has participated in Sandbox LAB, danced for their word/move project, and served as ASM for Unspeakable Things.
Lisa Day – Stage Manager
Lisa is a playwright, dancer and actor. She earned her MFA from the University of Iowa Playwright's Workshop in Iowa City, IA. Her writing has been produced in Minnesota, Iowa and Montana. Most recently, Lisa collaborated with Commedia Beaurergard in Masterworks: The Museum of Bad Art Plays Lisa is very happy to be Stage Managing and supporting Sandbox' creative work. Lisa is a passionate endurance athlete and completed her first 50 mile trail race this December.
Evelyn Digirolamo - Orange Ave. (creation)
Evelyn is an actor creator based in the Twin Cities. She has a passion for ensemble devising is excited to play, delve, and be overwhelmed with Sandbox. She is a co-founder of AEthem Theatre Company for whom she has been devising for 3 years. She has also collaborated with Pangea World Theater, The Gonzo Group Theater, Aniccha Arts, Shakespeare and Company, Historical Perspectives for Children, The Murder Mystery Company, and the Crisis Actor Troupe, and is always looking to engage with something thought-provoking, beautiful, and bizarre.
Andrew Lee Dolan – Orange Ave. (direction)
Andrew is a multidisciplinary performance artist whose work has premiered in Pittsburgh, Philadelphia, Minneapolis, Austin, New Orleans, and Ireland. He has served guest artist residencies with Fairfield University (CT) and Century College (MN), and has worked with the Rude Mechs (TX), Teatr Biuro Podrozy (Poland), 15HEAD: a theatre lab (MN), Corcadorca (Ireland), Town Hall Theatre (Ireland), and many others. He has provided dozens of lectures and workshops for elementary, high school, university, and professional groups. He was a cofounding teacher for Creative Action's New Stages Program (TX), a residential performance ensemble in the juvenile detention facility Gardner Betts that encourages participants to set goals, take positive risks, and assist each other in navigating the choices and behaviors that best help them accomplish those goals while providing an alternative to gang involvement. He developed the Men's Program curriculum and served as the Men's Program Director in 2009 and 2010. Andrew is currently a staff member with Forklift Danceworks (TX), where he has been doing development work since 2010. He graduated with an MA in Performance from the National University of Ireland, Galway, and holds an MFA in Directing and Public Dialogue from Virginia Tech. This is his first show with Sandbox Theatre.
Kristina Fjellman – Shiny Things
Kristina is a graduate of the College of St. Catherine with a MAED in Art and Theater Education. She has exhibited her sculpture in venues around the Midwest and Twin Cities including DeVos Art Museum, MCAD, the AZ Gallery, and various local coffee shops. She was also one of the four proud recipients of a Jerome Fiber Art Project Grant for 2010-2011 at the MN Textile Center. As a performer, she was most recently seen in the 2012 Fringe Festival production of Birds of Passage by The Winding Sheet Outfit, and has performed with Sandbox Theatre on two previous theater productions: War with the Newts, and The Horse, The Bird, The Monkey, and The Dancer. When she is not in the studio or rehearsal she is the Art and Drama teacher at an elementary school in St. Paul.
Peter Heeringa  – Orange Ave.
Peter recently returned to the Twin Cities from Boulder, CO, where he earned his MFA inTheater – Contemporary Performance from Naropa University. As a member of Sandbox Theatre, he has worn a number of hats, ranging from stage managing to assistant directing to performing. Recent credits with Sandbox Theatre include Beatnik Giselle (Stage Manager / Assistant Director), FARGO (Creator, Scotty), and The Horse, The Bird, The Monkey, and The Dancer (Actor, Horse).
In 2007, he served as an artist-in-residence at Fairfield University (CT) where he led student workshops in ensemble creation and performed in the co-created, devised performance of RAVENOUS. He has worked extensively with Eden Prairie High School since 2001 as a theater coach and director. He was the founder of the barbershop quartet Bello(w), with whom he arranged and performed from 2005-2008.
Cecilia Higgins - Grum
Mandi Johnson – Grum
Mandi has designed and put costumes on people all over the cities: Sandbox, Park Square, Old Log, Frank. Her multi-colored tutus were seen in Live Action Set's Basic North and she spangled the heck out of a presidential coat for 44 Plays for 44 Presidents at Pro Rata. Upcoming, she'll be making folks look amazing for Beyond Therapy at Pioneer Place.
Megan Campbell Lagas – Shiny Things
Megan is an ensemble member at Sandbox Theatre and has been performing and creating theatre in the Twin Cities since adolescence. She is also a teacher in the Saint Paul Public Schools, and the mother of two boys. Shout-out to the South Minneapolis Mega-Murder!
Theo Langason – Speakerboxxx/Below, Grum, Shiny Things
Born and raised in Northeast Minneapolis, Theo Langason is a recent graduate of Rutgers University where he studied Theatre Arts. Since moving back to Minneapolis about a year ago Theo has worked with Theatre Pro Rata,The Mysterium, Red Eye Theatre, The Winding Sheet Outfit, and Tequila Mockingbird. Suitcase will be Theo's second production with Sandbox after doing Beatnik Giselle in the fall, and his first as an ensemble member.
Derek Lee Miller – Marie-Jeanne Valet, Who Defeated La Bete du Gevaudan, Project Lead
Derek is an actor, puppeteer, designer, writer and musician. He earned his BFA in acting and technical theatre at Millikin University in Decatur, IL. During his time there, he founded the Last Chance Theatre, an underground experimental black box space and was awarded the school's McNabb Prize for Outstanding Contribution to Theater.
Since then, Derek has toured nationally as a puppeteer for Madcap Puppets in Cincinnati, OH and regionally as an actor/educator for Twin Cities companies National Theatre for Children and Teatro del Pueblo. He was awarded two residencies at Yaddo Artists Colony in Saratoga Springs, NY for playwriting and was voted Best Male Performer of the 2011 Minnesota Fringe Festival for his role in Red Resurrected. Derek is also a member of the Ivey Award-winning ensemble theater group, Transatlantic Love Affair.
For Sandbox, Derek has performed in Koogoomanooki, War With The Newts, HBMD, .faust, June of Arc, Unspeakable Things, FARGO, and Beatnik Giselle, and he was a Project Lead for The Mad Trapper of Rat River and Beatnik Giselle. In February, Derek will also be appearing in Transatlantic Love Affair's Red Resurrected at the Illusion Theater in downtown Minneapolis.
Brian O'Neal – Grum
Brian is a company member with Upright Egg Theater Co. dating back to 2005, where he has been an actor, director, movement coach, designer, and producer. Brian has also been seen in numerous Twin Cities area productions since 2000, including work with Theatre Mu, Youth Performance Co., Theatre in the Round, and others.
Ross Orenstein – Speakerboxxx/Below
Ross is a maker of theater born and raised in the Twin Cities. His natural habitat is cold warehouse spaces. Ross enjoys brightly colored pants, the smell of old books, and hot sauce. He has appeared on stage most recently in Spring Awakening with Theater Latté Da, You Don't Have to Choose Between Llamas and Dancing and Being with the One You Love with Catfish Theater, and No More Astronauts at the Gnome Dome Theater. Ross has also created a number of site-specific, participatory 'autotheatre' experiments with the Myndwyrm Performance Collective, culminating in a residency at Recess Gallery in Portland, Oregon. This is his first time working with Sandbox, and is quite happy to be a part of the playing.
Matt Riggs – Grum
Matt is a graduate of Hamline University and the O'Neil National Theatre Institute. He has done many shows with Upright Egg and other theatre companies in Minneapolis, including working with Live Action Set (The 7-Shot Symphony and The Happy Show). In addition to his theatre work, Matt is also a teaching artist working with students grades K-12 all over the Twin Cities.
Danielle Siver – Orange Ave.
Danielle is excited to be working with Sandbox for the first time. She has performed with many Twin Cities theatre companies, including Mad Munchkin Productions, Upright Egg Theatre Co., Classical Actors Ensemble, Urban Samurai, Theatre Pro Rata, and 20% Theatre Co. (for which she is also a Company Member). You can see her next in The Children's Hour with Theatre Or at the Sabes JCC this April.
Larissa Shea – Grum
Larissa is a local theatre artist and company member with Upright Egg having performed in A Midsummer Night's Dream (Puck), VENUS: a play about energy (Venus) and Songbird (Benjamin Disraeli). She is thrilled to be reunited with some of her favorite artistic collaborators and best friends to present in Sandbox's Suitcase! Larissa also spends time working with Off Leash Area (Now Eye See You, Now Eye Don't; Rip Romp & Howl) and Mad Munchkin Productions (Snowbound!; The Man Who Turned Into a Fish).
Derek Trost – Grum
Derek is A chameleon at heart, Derek has enjoyed accompanying a wide variety of live dance, theater, and musical projects in Seattle, Portland, San Francisco, Austin, Minneapolis, Chicago and points between on drums, vibraphone, marimba, accordion, guitar and voice. Derek performs regularly as a session musician in the studio, in addition to composing, producing and recording music for film and television. Derek leads a double life in architecture, as well as music, designing recording studios and live music venues, as well as custom residential projects.