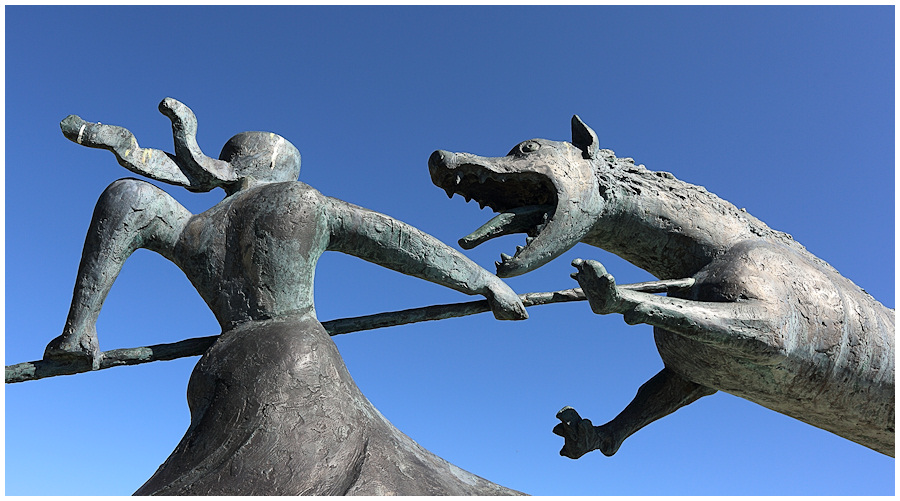 It's a common question for Sandbox: "How did you come up with that idea?" Usually it's as simple as one of us getting turned on by something and getting passionate about it. Enthusiasm is often contagious, as it was with Derek Lee Miller and La Bête du Gevaudan.
I first heard of the Beast of Gevaudan from the French movie Le Pacte des Loups, which I saw in college when it came to that one tiny theater in Decatur, IL that would play foreign and indie films. It was not exactly the existential drama that I had been led to believe all French films were. In reality, it was a bloated action movie with a confusing plot and for some reason, a Native American man that somehow knew Kung Fu. Oh, and the wolf was actually a hyena wearing armor made of leather, spikes and chains, which looked cool on screen, but was actually a really dumb idea now that I think about it.
Many years (and many confusing action films) later, I was writing an album's worth of songs about cryptids (animals rumored to exist, but not proven). I didn't want to write six songs about Bigfoot and Nessie, so I did some research, and, holy crap the internet has seriously empowered all kinds of crazy cryptid hunters. In the flurry of chupacabras, remnant dinosaurs and mothmen, I stumbled upon the Beast of Gevaudan. As it turns out, many people over the centuries have speculated that the wolf was no ordinary wolf. Some people are still seriously suggesting that it's a hyena, which still sounds really dumb.
From this, though, I learned the tale of Marie-Jeanne Valet, who was completely left out of the Le Pacte des Loups, despite the fact that there is a badass statue of her in France today (see photo above), and not a single statue for Francois Antoine, who is officially credited with killing the wolf. Antoine's love and awe for Marie-Jeanne formed the basis of the song I wrote, which contained, among other things, a guitar, an accordion and some badly butchered French. I've been waiting for this style of music to come back around again, and I think the time has almost come.
A few years after that, Sandbox was doing its Suitcase series, and I turned the story into a 15-minute piece done with only myself and suitcase of flat puppets. In escaping the constraints of a 3-minute song, I was able to explore some of the broader political contexts around this incident in France's history (which, to be fair, Le Pacte des Loupes attempted as well through the use of punches, flying kicks and guys who always wear leather). It was fun, but I still felt like there were some greater ideas left on the table.
So earlier this year, when Sandbox's ball was picked in the Fringe, I had a slew of new things to add to flesh out the entire world of Gevaudan. Along with the cast and director, we've found all kinds of funny, sad details that make the whole weird state of affairs in 1764 France seem eerily familiar to today's world. Somehow, what started off as a quirky story from a bad action film mutated into a great and terrible lesson on what happens when a nation goes off hunting the wrong monsters. It's beautiful and terrible, and I'm so glad that I had help in bringing it to fuller life.
Sadly, this version still does not feature Native American kung fu, leather-clad punches in the rain or a hyena in bondage gear. Maybe next time.
Derek Lee Miller is Sandbox Theatre's Artistic Director, and the Co-Project Lead on our Fall 2014 production, Killer Inside. Marie-Jeanne Valet, Who Defeated La Bête du Gevaudan opens Friday, August 1st, 2014. Tickets are on sale now.