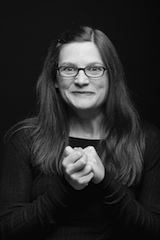 First rehearsal is the best. I have paper and a new pen. Snacks are prepared. A change of clothes are folded into a new bag – my rehearsal bag! I have lists – both mental and written down. I have my water bottle. I forgot my socks. I have hopes and ideas for the show and I'm starting to feel butterflies in my stomach. I have nerves, too.
Taking on the role of director for the first time solo for Sandbox has me excited and terrified. But the way we work – as an ensemble – with everyone taking ownership of what we do and how we do it, from the ground up, I am pretty confident that I won't break out into hives. Pretty sure.
If you know me, and you just read that, you might have rolled your eyes. There is a bit of insecurity – I'm human! I'm used to performing and creating. This time I will be guiding our work and asking a lot from the ensemble. There will be lots of questions and I won't have or know all of the answers. I'm okay with that.
There will be struggles and triumphs, aha moments, frustrations and backtracking. There will be laughter and confusion and grumpiness. There will be play. There will be moments of bold failure. There will be trust.
We will create this beast together. For these next few months, we will be family. However the show turns out, I hope we move on to our next adventures with respect, love and a renewed passion for each other as human beings and creators, for the work that we built together and the overall awesome satisfaction you get (I get!) from original, new work created as an ensemble. I hope to see you at our show at the Red Eye this November. I'd love to talk with you about it after you've seen it.
Onward and upward, all